I was never a sports fan; but it's so pervasive that, even being averse to it if not phobic, I was caught up by the cloud of depression caused by Kenny Dalglish's departure to Liverpool from Celtic that hung over our school for a day. I think I went home and gazed at his picture on one of the football cards you got with bubble-gum bro
ught from ice-cream vans and mentally asked, "how could you do it?" But I was better the next day, and was back in the school's small car-park with my
Eye-spy Book of Cars
.
The behaviour of sports personalities off the pitch, field or course has been high in the media spotlight recently but, in an article whose title refers to Pele's description of football as "the beautiful game", the
Telegraph
's Mick Brown shows us that
extra-curricular activities are nothing new
:
One of the more poignant football stories this week was the revelation that during the Second World War those two examplars of a finer age of Corinthian values, Stanley Matthews and Stan Mortensen, were arrested for trying to sell contraband coffee and soap while playing an international match in Belgium. Their excuse, touchingly, was that they needed the money to buy presents for their wives. The two men were given formal reprimands, and the incident buried away in Ministry of Defence documents which have been kept secret for more than 65 years.
However, stories coming out in recent years seem to be of a more serious nature than spivviness.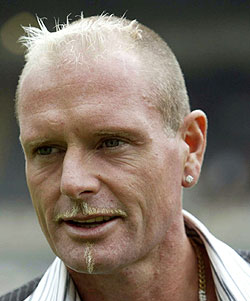 For example, we had the infamous
"dentist's chair" incident
in the 1996 European Cup, where members of the England Football Team adopted the posture of a client of said professional to have spirits poured into their mouths. The incident probably had a two-way relationship with Paul Gascoigne's increasingly problematic drinking; as the
Guardian
's Mark Watson
wote last year
, "if Gascoigne's gluttony ended up being his fatal flaw, the media were equally greedy for details of his impending downfall. The tabloids who demand 'GET HELP FOR THIS MAN' these days are, by and large, the same ones whose relentless scrutiny fuelled Gascoigne's decline."
More recently, a presumably fatigued Tiger Woods has been intimately linked with nineteen women. But compare his attendance at a
clinic that treats addiction to sex
while Iris
Robinson, MP in the devolved Stormont Assembly in Northern Ireland, who had a fling with one man who fleeced her for £50,000, told all in a BBC documentary and is now a
star on Facebook
, was taken into psychiatric care when the scandal broke. I'm not trying to say that committing adultery with one person is more excusable than committing it with nineteen, merely that being diversity-ridden does not protect society from institutionalised sexism.
It's as if sports stars, whether playing or not, are in an enclave where normal morality is kept at the gates. In an essay on
Moral Reasoning in the Context of Sport
, David Shields and Brenda Bredemeier of the Univesity of Missouri's
Center for Character and Citizenship
state they found in a study of 50 college students that "
the nonathletes had significantly more mature moral reasoning than did the basketball players
", explaining:
we also noted that in the philosophical and social science literature on play, games, and sport it was commonplace to discuss these activities as somehow "set apart" from everyday life. The noted philosopher Huizinga, for example, described play as "a stepping out of 'real life' into a temporary sphere of activity with a disposition all of its own". Handelman, an anthropologist, wrote that entry into the play realm requires "a radical transformation in cognition and perception". Schmitz, a sociologist, similarly suggested that play transfers participants into a world with new forms of space, time, and behavior, "delivering its own values in and for itself".
Now we have the news that John Terry, captain of the England football team, had an affair with the wife of his team-mate Wayne Bridge - but there's something different here. Famously strict England manager Fabio Capello, in seeking to lance "
the most pernicious boil threatening his meticulous preparations for the World Cup
", indicated that he's opening the gates of the enclave when he asked Bridge if he would be prepared to play under Terry's captaincy, the result being that England is seeking a new captain.
One could argue that heaping more money and fame upon young males than they can reasonably be expected to cope with is asking for trouble. It's a compelling argument and is in many cases true, but there's more. Firstly, huge amounts of money pumped into sport by TV deals and sponsorship that distort the playing field in every sense - from which even the
sedate world of cricket
isn't immune; secondly, the fête-'em-and-slate-'em attitude embraced by celebrity magazines and the worse tabloids which assumes that being in the public eye is a hubristic act that must be punished by astounding violations of privacy; and thirdly, a notion on the part of the Establishment that success - that being known for being good at sport, perspicacious at business, or just being known for being known - is an end in inself and a "get out of jail free" card.
However, Capello's reaction to his former captain's phiandering - making Terry the first England player demoted for non-football-related matters - wasn't the only surprising thing about the affair; the "other woman" has announced that she won't be selling her story. If things keep going on like this, I might just look out my old football cards.