In the 1980's, the relationship between the Archbishop of Canterbury, the late Dr Robert Runcie, and the then Conservative government of Great Britain was often strained, yet I do not recall any loud calls for the Church of England to be disestablished form the state, merely rumblings that "the clergy should not interfere in politics". This is, of course, seen as the corollary of one translation of Matthew 22:21, when Jesus is asked whether it's lawful to
pay taxes
to the Romans, and famously replies, "give to Caesar what belongs to Caesar, and to God what belongs to God."
We're now facing calls for disestablishment, which would technically mean that Great Britain, despite its many Christians, would no longer be officially a Christian nation, and would move closer to being handed over to radical militants of various political and theological persuasions, and I fear that one of the strategies will be to try to pit the Church of England and Roman Catholic Church against each other.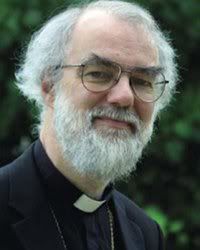 The latest stage of this situation started with remarks of the present Archbishop, Dr Rowan Williams, on Prime Minister Gordon Brown's borrowing plans to provide a "fiscal stimulus" which would presumably lead us to liquidise what savings we have so that the freed money would mitigate the financial situation; Williams stated that it was like "
the addict returning to the drug
...What I'm worried about is anything that pushes us straight back into the kind of spiral we were in before". Ironically, his words encapsulated those of Prime Minister James Callaghan to the Labour Party Conference of September 1976:
We used to think that you could spend your way out of a recession and increase employment by cutting taxes and boosting government spending. I tell you in all candour that that option no longer exists, and in so far as it ever did exist, it only worked on each occasion since the war by injecting a bigger dose of inflation into the economy, followed by a higher level of unemployment as the next step.
In this curious game of theological tennis,
Mr Brown replied
that "
we should not walk by on the other side when people are facing problems
".
The next round is masterfully described by Cranmer in his post "
Church of England unites to dam

n "morally corrupt" Labour
. In the
Sunday Telegraph
of December 28, Jonathan Wynne-Jones reported that the Bishop of Manchester said Labour was "beguiled by money", the Bishop of Hulme added they were "morally suspect", the Bishop of Durham opined that they had reneged on their promises, and the Bishops of Winchester and Carlisle brought up the rear with the charge that ministers had squandered their opportunity to reform society.
The backlash is reported in
today's Telegraph
, where the intellectual tone was set by
John McFall MP
with "
I don't know if at the bishops' palaces there has been too much mulled wine passed around over the past few days
."
There is due to be a CofE synod in February, in which a debate on the financial crisis is expected to be highly critical of the government's handling of it. Look out for much mud-slinging and sleight-of-hand in the run-up.
One area for agitation will be, I believe, the Act of Settlement 1701, which basically ensures that nobody who is a Catholic, or who is married to one, may take the British throne or be in line to it. It is, of course, a deeply discriminatory piece of legislation - but when I worshipped for several decades in the Roman Catholic Church, I don't recall a single occasion when somebody said to me, "you know, the Act of Settlement really bothers me"; in fact, in Scotland, when you heard about it, you knew that the Scottish National Party and the Labour party were fighting over the Catholic vote, especially in parts of the politico-religious quagmire thereabouts where angels fear to tread.
There was much talk of the Act of Settlement when Peter Phillips, the Queen's older grandson,
married Autumn Kelly
earlier in 2008. Ms Kelly, born a Catholic, converted, and so the need to amend the Act didn't arise.
Not that the Act of Settlement hasn't been amended before - to allow Edward VIII to ab
dicate and marry his Mrs Simpson, and it can be amended again. For example, in the early '70's, when Prince Charles developed a relationship with Lucia Santa Cruz, daughter of the then Chilean Ambassador to London, there was talk among MP's that if the relationship should deepen, the necessary action could be taken to ensure that she could be Charles' queen. (In the event, the ships passed in the night, but not before Ms Cruz introduced her prince to Camilla Shand, now his wife. But that's another story.)
What will be interesting is what the Bishops make of Gordon Brown's remark about "not passing by on the other side". As well as a reference to the Good Samaritan, it's an echo of Margaret Thatcher's concept, first formulated in a
1968 lecture to the Conservative Political Centre
, that "
even the Good Samaritan had to have the money to help, otherwise he too would have had to pass on the other side
".
The thing is, Thatcher, when elected in 1979, had to take care of the mess she inherited - somebody else mugged
the man going to Jericho
; the wounds of today's unfortunate traveller were inflicted by his rescuer. Brown seems to suffer from a political and financial version of Munchausen's syndrome by proxy: not so much a St Francis of Assissi as a Beverley Allitt - the children's nurse who poisoned babies in order to act the hero when she stepped in, and is consequently serving time for murder.
In a not dissimilar vein to the Archbishop's, the Pope warned that the world is "headed tow
ard ruin if selfishness prevails over solidarity during tough economic times" in his
Christmas message
, but I doubt Mr Brown is ready to take on the man to whom he gave a copy of his
father's sermons
when he had an audience - and whose predecessor Margaret Thatcher praised many times in her political memoirs.
I hope we all stick together as far as is possible during what may be testing times. I would ask for your consideration of an alternative translation of Mt:22:21 - "give Caesar what Caesar deserves, and give God what God deserves."