Minima loves elephants: she has elephant posters in her room, pictures of elephants decorating the covers of her jotters, and was heartbroken, upon watching the last instalment of
Lord of the Rings
, to find that the baddies rode on elephant-like thingies with spikes.
So I was careful to phone home tonight, at the end of a late shift, to warn Maxima that I was going to watch a C4 show - to which I'd been alerted by the
Telegraph
's
Urmee Khan
- called
Inside Nature's Giants
, which, in the first of four episodes concentrating on autopsies on iconic animals, dealt with the post-mortem examination of a lame elephant. It's the first time in a while we've gotten Minima to retire without argument on her designated bedtime for a schoolday, but that's another story.
Not b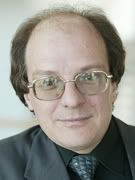 eing oversentimental about dead animals, I nevertheless took no pleasure in seeing the grand old dame laid out. But she was treated with respect by the professionals, including the
Royal Veterinary College
's Alun Williams. Evolutionary biologist Simon Watt explained, with the aid of intelligent graphics, how animals representing various branches of the Tree of Life had tried to cope with reconciling a body high enough to house a vast digestive system with mouthparts that could reach water and high bushes but the elephant is the only surviving successful model.
I didn't have any problems with this, although I realise some of my coreligionists might. What made me feel concerned was that Richard Dawkins, society atheist and professional polemicist, had been invited to record contributions to the series, but added nothing of substance to Watt's informative expatiations.
One phrase of his that interested me was, when commenting on the tendency of male elephants to grow shorter tusks since being hunted for ivory by mankind, was that it was "
evolution happening before our very eyes - it can happen very fast
".
This was a view that Dawkins enthusiastically espoused in his first - bestselling - popular science book,
The Selfish Gene
, in catastrophic changes to the Evolutionary Stable
Strategy he espouses in Chapter 5. Sometime after this, he discovered that he had reinvented Stephen Jay Gould's concept of punctuated equilibrium - that nothing much happens for a long time then everything changes - and was unkind to Gould in ways that could not be justified in a professional sense. In the 30th anniversary edition of
The Selfish Gene
, he admitted - in an endnote to chapter 5, that he had been "petulant" in his criticisms of punctuated equilibrium in his 1986
The Blind Watchmaker
, and that "if this has hurt anybody's feeling, I regret it". Gould had been dead for four years. Dawkins absolves himself in finishing off the endnote: "
my heart was in the right place
".
There were fascinating insights into elephant anatomy and physiology, as well as footage of the beasts in the wild where they belong. Also shown was their irascible side. It was a pity Minima never saw this, as I'd have liked her to appreciate how God's creatures are in reality, now that she's graduating from comfortable storybooks.
Something that affected me was the sight of how elephants treat the remains of others of their kind when they happen upon them. They caress the skulls and lift the bones, in a display that suggested grief. The narrator suggested that they were trying to identify who the dead were. I can understand that: I never knew my Granny, Julia, but I remember an old woman from my childhood in the Ayrshire moors who knew me not by my name but as "Julia's daughter's son".
What concerned me was that, after this excercise in anthropomorphising our proboscid friends - which may have been justified to a limited extent - we were treated to several statements about the extent of the poor old girl's cartilage degeneration and how "
the quality of life when you get to this level of arthritis is unthinkable
". I'm sorry for her (I wish I'd noted her name), but my mother had severe arthritis in every joint for a couple of decades; I won't deny that death came as a friend, but that's by no means the same as averring that humans should be brought to his domain before nature is happy to call time on behalf of God. I've had a couple of dogs put down, because they did not have the capacity to try to apply understanding to suffering on behalf of themselves, let alone others. I grieved, of course, but to apply the same standards to people is to show a fundamental misunderstanding of why our species is called
Homo sapiens
.
Generally, however, this was a very interesting program. I suppose Richard Dawkins generally behaved himself; it re
mains to be seen whether the same can be said of next week's offering, in which a
fin whale is going to be autopsied in situ
. Dawkins promises to reveal to us - in an opening salvo of a battle the Royal Veterinary College may not be eager to fight - "
the delusion of design - it looks exactly like an engineer might have made it
".
He's already got his first shot in: if we believe in a Creator, at a greater or lesser remove from the mechanics of His creation, we're deluded. I look forward to next week's programme, to hear his justification (if he deigns to give any) for why his faith in his own rectitude necessarily negates the beliefs of those he he labels as "deluded".
In the meantime, I quote a phrase of Charles Darwin's which I've never seen Dawkins referring to, as an indication of the former's breadth of intellect in the face of contradictions which would have pulled apart those who grasp fame at his coat-tails:
I feel most deeply that the whole subject is too profound for the human intellect. A dog might as well speculate on the mind of Newton. Let each man hope and believe what he can.
The first episode of Inside Nature's Giants may be viewed on the C4 website.
Related post:Whales and unintelligent evolution: Inside nature's giants