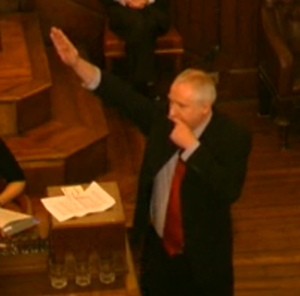 Old Holborn is an independent libertarian candidate for Cambridge who dresses as Guy Fawkes, including mask.
The reason I mention him is that he appears to have been the first person to have posted a picture of the city's Labour candidate
Daniel Zeichner performing a revolting gesture
during a debate at the Cambridge Union. Zeichner, giving his opinion of the Polish Law and Justice Party with which the Conservative Party in Europe is allied by giving a Nazi salute. This is yet another instance of the blogosphere leading the news agenda.
Zeichner referred to the incident at a hustings ran by the
Stop the War Coalition
at which Old Holborn was also present and -
according to minutes
- found it necessary to point out very early on, in a conversation that was heading in sinister directions, "
80% of Conservative MPs and 40% of Labour MPs are signed up as friends of Israel. Only Israel has more Jewish MPs than Britain
." The hustings was also attended by Julian Huppert of the Liberal Democrats, Martin Booth of Cambridge Socialists, Simon Sedgewick-Jell (representing Tony Juniper) of the Green Party and Daniel Zeichner. Conservative candidate Nicholas Hillman was speaking at another engagement.
Zeichner was lucky enough, given his recent history, to arrive right at the end of the section of questions on Israel and the Palestinian Authority. Soon after, though, the following bizarre exchange took place between Zeichner and a photographer standing at the front:
Photo:
How does Daniel Zeichner square what he says with his membership of Labour Friends of Israel?
DZ
I'm not a member.
Photo
I have information that you are.
DZ
I'm not.
Member of public to photographer: "sit down!"
Photo
I withdraw my previous comment, as my knowledge is not sufficient – what did you mean by "forces outside our control?"
DZ
My Dad was born in the 1930s in Vienna, and was driven out by the Nazis. I'm not Jewish, but my Dad lived in Vienna at a time when it was wise to get out.
The photographer turned to the seats and said "I want to reassure everybody I'm not anti-Jewish", then he and the member of the public who'd told him to sit down accused each other of wanting to direct the meeting before the Chair regained control.
As a member of both
Conservative Friends of Israel
and
Anglican Friends of Israel
, I'm curious: what's so wrong in being a friend of Israel? We deserve to know.
All of the minutes are very interesting -
click to read them here
. I'm sure that anybody who wants to take issue with them can refer to the video of the event filmed by Cambridge Socialists.