When we got on the train to go to Spring Harvest, I was still feeling queasy from the stomach bug, which had kept me awake with knotted guts all the night before; so I wasn't at my most communicative as I stood on the crowded train so that Maxima and the girls could sit, together with our friend Significatia and her daughter Feles, who had broken her ankle in an acute attack of childhood. Three changes of train got us to Skegness - where Maxima's parents had their honeymoon - then a huge taxi took Feles and her entourage to the town's Butlins.
When we got to our chalet, comprising two rooms and a toilet, we unpacked and found out that the rucksack I'd been leaning my big head on was flooded with coffee, as the flask had burst, so I wasn't flavour of the month. Minima disappeared to go to a "club", and it was almost the last we saw of her all week, apart from mealtimes and those rare incidences when she felt tired.

Butlins is a holiday camp founded by Sir Billy Butlins at Skegness in 1936, and was used for accomodation and training of troops during WWII. It was, famously, home to the Knobbly Knees and Glamorous Granny competitions before these fell victim to the guillotine of modernity. So what did we have for the first night's entertainment in the hall across the lane from us for the youth of the Christian inspirational week? Flaming thump-thump-thump music, with excited kids jumping up and down so that the windows were shaking in their frames. Still, it made me grumpy, which is always a good sign that I'm going to get something out of an experience.
There was lots to choose from, the programme encompassing evangelical sessions, Communion services and everything in between. I felt myself on the edge of becoming unwell, something which I can experience when not feeling good physically, so I didn't attend as much as I'd hoped to. One thing that stood out was the
Café-Church
, a faith-based community held in a Costa coffee chop which the chain has pledged to host wherever there's a demand for it. So Costa's first on my list of refreshment stops when in Cambridge - I think that's how capitalism works. Minora and I met a lady who struggled with depression, and a fellow who had injured his arm at work and had begged them to let him return from sick-leave, but had been blocked by health-and-safety mandarins. Another group I attended through the week was entitled
Walking with Muslims
, of which more in another blog soon.
Prof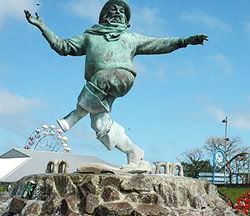 essor Calculus had thought that Skegness, with its Viking name, was further to the north, but it's on the Lincolnshire coast, just above the Wash. Our taxi driver commented that the town might be half its size were it not for Butlins, and when we visited the resort the prices, as attractively low as they were, reflected the economic depression that parts of the county can be prone to at the best of times. The saucy seaside postcards, although maybe not quite consonant with a Christian-themed holiday, nevertheless raised a smile and brought back memories of childhood holidays at Blackpool on the west coast with my Mum.
Going in the other direction to Ingoldmells, on the other hand, I was dismayed to enter a sweet shop with one of my daughters, to see anatomically correct reproductions in confectionary of the genitalia of both genders stacked at a height that would make them eye-level to young children. This was way beyond saucy postcards, which require some brainwork to access the
double-entendres
. It's not for me to agitate for such tat to be banned, knowing how vital hen-nights, stag-nights and such are to a smaller resort struggling to stay afloat in the shadow of a larger one; but their prominence in the sweet-shop and market stalls was disappointing when, say, a sign indicating that adult products were available "under the counter" for over-18's might have worked. That would certainly be preferable to the signs screaming "don't forget your rock [
expletive deleted
]".
Thankfully, Spring Harvest was altogether much more tasteful as well as intelligent, and the young folk gave an object lesson in how to look good and modest simultaneously. I did worry, however, that they were not as well-served musically as people from other age-groups. For example, in the introductory big-top marquee session (which was piped to chalet TVs), the lead singer with
thebandwithnoname
led a rap/hip-hop session. This seemed to mirror music for teenagers generally, and it seemed to me that for every kid who went to see a band because they performed hip-hop, another stayed away for exactly that reason. There seems to be a conspiracy not to mention in public that a lot of Christian popular music (ie
not
hymns) is often not quite up to standard, but younger people show the rest of us the way by refusing to compromise in their demands for subtly written and performed music.
There were, of course, many exercises of looking beyond our own shores, one of which was Tearfund's "wipe away poverty" campaign to provide toilets for parts of Africa, where
not having a loo...makes women and girls a target for sexual assault as they go to the toilet in the open, late at night.
Of course, as a matter of common-sense giving, I refrained from patronizing any charities I wasn't familiar with until I could get home and look up their views on issues concerning the beginning and end of life in the Society for the Protection of Unborn Children's
Charities Bulletin
. Whereas Tearfund has said "
abortion is always and everywhere a tragedy
", Derek Prince, author of
Atonement
, which I'd set myself for the week, goes much further:

God is on the side of the weak and oppressed. The conspicuous example [of injustice toward the weak] today is abortion - deliberately taking the life of an unborn infant. If there ever was an example of someone weak and helpless, it is an unborn infant.
In this vein, the icing on the cake at Spring Harvest was finding the SPUC Evangelicals leaflet pictured below. I say this because the concept of "innate" rights means precisely that: without a clearly-recognised right to be born, the rest of the whole shebang might as well have been written by Spike Milligan on speed.
One high point was when we went to visit Revd Cantiana in her caravan, and I found I was the grumpiest there. Sad as I was that Cantiana wouldn't be coming back to the Draughty Old Fen with us but heading to her new posting, that cheered me up. Then it rained, which chased the crowds away and I could enjoy a walk.
If I particularly felt the presence of God, it was in the little graces - calming down the kids to have a moment of prayer; or Significatia stopping us to point out it was three o' clock and time to thank God for his death-defying love for us; or Minora giving me a hug when I wondered out loud how many more family holidays we'd have.
I remember some people we met, as well - a boy in his early teens who was taller and wider than me and had an incredible vocal range, who enjoyed putting on musicals with his am-dram society; a black African worker who saw dispensing benedictions as part of his duty and whose voice had a music in the way that a Highland accent does, who said he was going to come to next year's harvest as a steward; and the girl with whom Minora made friends ("for life", they said) who loved Disney films and multicoloured socks. I hope their dreams come true.
The end came too soon, and the journey home was tiring but uneventful, except for Maxima having to let a lonely, well-refreshed ex-Harvestee down gently when he proposed to her.
My better half having a stonking cold, I chivvied the girls, tired and reluctant, to school this morning. Minora's eggs boiled harder than she wanted, because she was distracted playing a DS game about preparing food. I'm sure there's a good lesson in there, but I'm too tired to tease it out. Anybody?