It's nearly the end of Lent, and Maxima has been fasting every Friday, and finding it something of a liberating experience. In the early Church, Eastertime was the customary time of baptism for converts from paganism, and therefore Lent was a time for meditating on the various aspects of water. I can't promise a meditation, but am fascinated by the matrix formed by the intersection of modern music with seemingly deeper topics. Here are my own offerings.
10 -
The Mighty Atlantic - Runrig
This song is from the album
Mara
, which is Scots Gaelic for "sea". I am reminded of the Hebrew word Marah, which means "bitter", and is mentioned in
Exodus 15:23
as a bitter srping some days' journey after the miraculous crossing of the Red Sea. Some Jewish mystics ascribe to Marah the experience of "the great bitter sea" which must be crossed on one's journey to God, an experience they sometimes call the Vision of Sorrow.
9 -
The River of Dreams - Billy Joel
I often hear people who haven't practiced their faith for years discuss what they're going to give up for Lent - it seems as much a part of touching home as Christmas. Just so, I'm fascinated by the opening lines of Billy Joel's song, which came to him in the shower one morning (water again!) just after rising:
In the middle of the night/I go walking in my sleep/From the mountains of faith/To the river so deep/I must be lookin' for something/Something sacred I lost
.
8 -
Big River - Jimmy Nail
Perhaps it's the daily experience of living with powerful forces you can't control that tempts people who work on and by the sea to be superstitious: I've heard a story that a collective chill went down the spines of the Harland & Wolff Shipyard workers in Belfast when they came on shift to find that somebody had painted the legend "unsinkable" on the hull of the
RMS Titanic
. Whatever, this is a powerful song of the rise and fall of shipyards that has been played out in many places over the world, but ends with a note of optimism that generally heralds the diminishing of a depression of any description like spring's first snowdrop:
the river will rise again
.
7 -
A change is gonna come - Billy Preston
Like many classic songs, this is "about" many things. When Sam Cooke wrote it in 1963, the civil Rights movement had burgeoned since Rosa Parks decided a bus-seat was a bus-seat and enough was enough. But it also speaks of his inner turmoil, much exacerbated by the death, earlier that year, of his infant son. Cooke writes of being
born by the river
and seems to see life as a Heraclitean process of change which has been dammed for so long that an inundation is inevitable. His song has been sung by a host of singers, but my favourite interpretations are by Seal, the Neville Brothers and Billy Preston. I love the latter's piano style, so I chose his.
6 -
Rivers of Babylon - Boney M
This was no. 1 for weeks in Great Britain, and I believe it was the German band's only hit to trouble the US charts. Much of their music was derided as disposable pop at the time, but I bought Maxima their
Greatest Hits
a couple of Christmases ago, and was surprised at the sophisticated arrangements.
After its release in 1978, it received boquets and brickbats in equal measure from the inhabitants of the "God-slot" on Glasgow's Radio Clyde. Personally, I think that a disco song that put verses 1-4 of
Psalm 137
, detailing the dramatic refusal of a cantor to sing for his Babylonian captors, on everybody's tongue and in everybody's mind was wonderful.
5 -
Fingal's Cave - Mendelssohn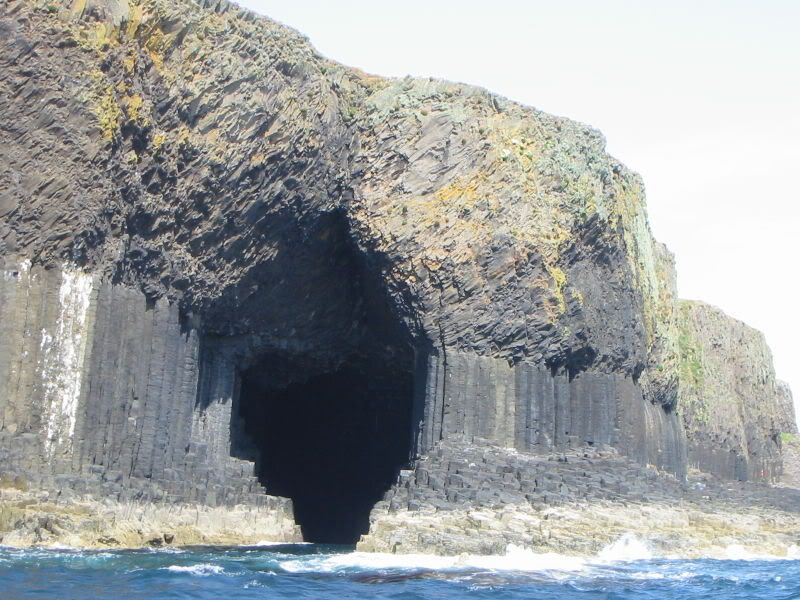 In 1829, the composer accepted an invitation to travel to England, and extended his journey to Scotland to visit the novelist Walter Scott. On a sailing trip, he glimpsed the rugged beauty of the entrance to Fingal's Cave, on the island of Staffa, which is one of the Outer Hebrides (also called the Western Isles), a chain of islands to the west of the Highlands. It must have taken the water aeons to carve the intricate pillars from the basalt outside the cave: but then water, like God, acts in its own good time. (If you click the video twice, you will see
thelightisahead
's excellent commentary on this piece.)
4 -
Amazon - John Denver
I'm not anti-environment, because that would be synonymous with suicide. But the endless clanging of empty vessels calling for care for the environment is not only sinister, in that it combines
population control
agendas with ways of seeking to raise taxes on how we live and move, it is presumptuous: if Great Britain's electricity supply owed as much to wind turbines as environmentalists would like, we'd have had a blackout during the cold snap last Christmas, when there were hardly any winds. And stupid: because of the haranguing at high levels of environmentalists, not only do we not have new nuclear power stations to replace the old, but we're going to have to import the know-how to build them from France, for Pete's sake.
We are fatigued with all the false righteousness, and one of the biggest losers is the Amazon. What's going on there, with logging, development and eradication of indigenous ways of life, is nothing short of a crying shame. I don't think James Lovelock was being mischevous when he recently called for nuclear waste to be buried underground around the Amazon - development would wither, and demand for products from the trees would collapse.
John Denver's 1991 song
Amazon
, from the album
Different Directions
, seems seems to be rigidly platonic in the introductory verses, but the reasons for this become clear in the later parts of the song. I hope you enjoy these images of Amazonia, and the track from Denver's Wildlife Concert.
3 -
Eriskay Love Lilt - Nana Mouskouri
This is a Scottish love song that was originally written in Gaelic, but to embed a video in that language would not only exclude the rest of the world, it would exclude most Scots. For me it shows where the analogy between water and God breaks down - love can unite where water divides. It's performed by Greek songstress Nana Mouskouri.
2-
Perhaps Love - John Denver and Placido Domingo
Legend has it that John Denver wrote this song after coming in from the balcony attached to his London hotel room; he had been preoccupied with the darkest of thoughts, but - an aviation fanatic, indeed a pilot - had seen Concorde fly overhead, and decided that if such a random event could pierce his suffering then there was a purpose to it all. The resulting song was full of dissonant metaphors, but water ran through most of them: love is "a shelter from the storm", and it is "like an ocean, full of conflict, full of pain" (although Denver sometimes substituted "change" for "pain"; perhaps he'd read of Heraclitus). The one line, hoever, that has come to me through the years is
the memory of love will bring you home
: I'm sure St Monica hoped something similar for St Augustine - certainly my mother and my wife made this their prayer for me.
1 -
The long and winding road - The Sixties
This is a faithful interpretation of the Beatles'
Let it Be
album version of the song, with its references to rain and pools of tears, about which there was a huge kerfuffle, with Paul McCartney saying that Phil Spector's instrumental backing ruined it, and Spector replying that Macca had no problems accepting an Oscar for the film of the album. So I decided to offer you a video by Israeli cover band The Sixties, supported by the Raanana Symphonette Orchestra. The reason I've put this at number 1? When I was living in Rome, a student priest said to me, "this is the story of my faith."
Related posts: click here for more top ten songs about...