Following Terry Wogan in the BBC Radio 2 breakfast show was always going to be a hard act, but even those of us who are Chris Evans' staunch fans have been astonished by the ease with which he's carried it off. Like a jazz musician, he structures his show with regular features around which he improvises using his quick-fire feelgood wit.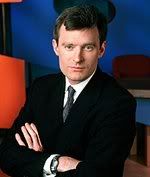 Some time ago, Jeremy Vine, who runs a talk show in the early afternoon on the same show, spoke about how he "feels unable to talk about his faith on his show because he fears how people would react". It's a fair point: the BBC is famously phobic as regards treating this country's Judaeo-Christian heritage with anything resembling respect.
However, my jaw dropped in admiration when Evans reacted idiosyncratically to the news that ITV1 broadcasts only one hour of religious content per year and Five carries none at all:
Come on, it's not about ratings, it's not about monetisation, it's about keeping in the Big Man's good books!