In my late teens, having decided to terminate my studies in Italy, I returned home by train and boat and found myself drawn to conversation with a variety of people, as if we souls in transit - in more ways than one - were drawn to each other.
I found myself reflecting on this last week while travelling by train to Spring Harvest, an annual Christian festival of lectures and worship based in two Butlins camps - Minehead and Skegness - of which I went to the latter. As it happened, I spent the first half of the week feeling a little sedated due to unexpected side-effects from my meds, but experienced yet again, in going and coming home, the discovery predicated by Dickens of
David Copperfield
that the stages on the journey contribute to its object.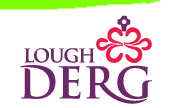 Due to an urgent meeting at work I'd been unable to travel with the family. Not having the opportunity to partake of a radical fast in the tradition of
Lough Derg
in Ireland, one of Europe's most ancient sites of pilgrimage, as a blogger I'd decided to fast from the news. This left me looking out of the train windows and realising that I hadn't done so for many years, such had been the pull of having my head stuck in a book or paper when travelling.
Perhaps a meeting at work at which the probabililty of downsizing was discussed had taken my eye off the ball (as well as ensuring I couldn't travel with my family), or maybe I was a little too calmed by the smell of freshly-mown hay from the field opposite Ely station; anyway, when my train arrived simultaneously with another on the other side of the island-platform, I got on the wrong one and found myself heading back to Cambridge. An anticipated sulk was swept away by the discovery that I could get straight on another train to Ely, and I wasn't held back all that much.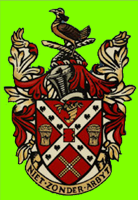 On the journey to from Ely to Grantham I watched the waterlogged Fen landscape roll past with a sense of wonder at how much dry land had been reclaimed by the heroic efforts of
Sir Cornelius Vermuyden
, whose travails are commemorated in the legend beneath South Cambridgeshire District Council's coat of arms -
Niet Zonder Arbyt
(nothing without work) - which is the only Dutch motto in British civic heraldry.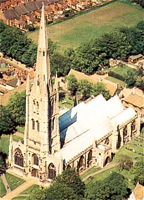 I got off at Grantham to join the Poacher Line to Skegness. The East Midlands town was instantly recognisable by the skyscraping spire of St Wulfram's Church, built to commemorate the 7th century Frankish missionary in the early 1300s, and a striking contrast to the many Norman church towers, arising from parish churches of villages mentioned in the
Domesday Book
, punctuating the horizon during the journey. As we drew out of the expanding East Midlands town I got a glimpse down St Peter's Hill before another new shopping centre went by. I pity people trying to get onto the property ladder here, as prices rocketed after the discovery that, at a pinch, one could commute to London from it.
Soon after Grantham the train stopped at Rauceby, once the site of a
major psychiatric hospital
that was closed in 1997, after which we were once again in the fens proper. I was delighted to catch a glimpse of two great crested grebe perform a mating dance before arriving at Boston, where a group of pilgrims known as the English Separatists left firstly for the Netherlands to try to practice their faith in freedom, before finally and famously fleeing the religiously-riven continent on the
Mayflower
to
land on Plymouth Rock
, and found a namesake of their hometown in Massachussetts in 1620.
It was getting darker as the train drew towards Skegness - known as "skeggy" to its many admirers - and I saw a Barn Owl swoop low over a field in the gathering gloom. For somebody who's still a city-boy at heart, it felt like winning a prize.
On the bus from the station at Skeggy I felt a squirt of adrenaline at catching the sea just as I've always done since boyhood, although it was good to get into our caravan in the site opposite Butlins at last. Spring Harvest was good, although I was dismayed at the lack of any opportunity for traditional worship. I attended some good lectures, but will have to review my notes and do some digging before posting an appraisal.
Spring Harvest finishes on a Sunday which, if you don't have a car, is hellish, because only one train runs, but at least this year it had an extra carriage. We met one lovely woman from the north-east, who suggested that next year she might spend the Sunday night in a bed-and-breakfast and leave on the Monday - or else not come if she can't afford the extra expense. The situation regarding the trains is a crying shame, because Butlins is full-up during the two Spring Harvest week-long sessions, which
help it provide such a vital economic and jobs boost to Skegness
.

Passing Boston again, I saw a row of terraced houses that, like unbraced teeth, had grown organically, with the Unicorn Bar and Andy's Fish and Chip Shop, while St Botolph's unique spire (
The Stump
) played hide-and-seek in the backg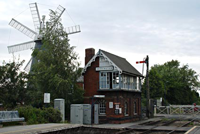 round. Another station, Heckington, was beautifully trimmed and displayed a poster advertising a "Railway and Heritage Museum". beside the station was a huge windmill, and I wondered if this might be one of the originals deployed by Sir Cornelius to drain the Fens.
Wainfleet
was also beautifully kept, with flowers growing from cut-down beer barrels: an addendum to each railway sign identified it as "the home of
Bateman's Brewery
".
As good as it was to get back to the Draughty Old Fen, it was a beautiful, if crowded, journey. Despite large green spaces being built into the Fen drainage system by Vermuyden as an integral part, whether or not those places in the Fens I saw will be built on depends upon the
result of the next election
. I hope I get a chance to see them again soon.