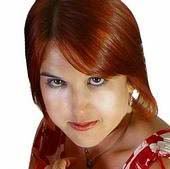 EJ Norman
All songs written by EJ Norman/R Blandford
Enquiries to
ejnorman@hotmail.co.uk
As I tap away here in the draughty old fen late at night, I'm listening to an eponymous album by
EJ Norman
, who hails from a nearby old fen but has emigrated to Brighton.
There are twelve songs, collaborations between EJ and novelist/lyricist
Richard Blandford
: each song has its own texture, moulded by an understated drum-machine, intelligently-played bass guitar, and subtly-phrased synth riffs that colour but never intrude. The synergy of the three instruments is sometimes reminiscent of Kraftwerk, with a soupçon of Eurythmics. In
Anybody will Do
I thought I heard Benny and Björn on keyboards, in reflective mood.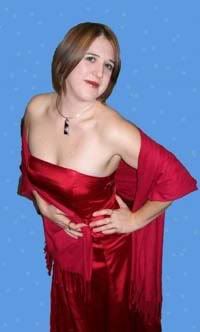 Then there's the words - described on her
MySpace
page as "
pure synth-driven melodrama, evoking overheard arguments in tacky small-town nightclubs, the wistful dreams of escape imagined on lonely railway bridges, and the precise moment when you realise that a love affair is dead in the water
."
EJ takes the voices of different players, like an actress in a series of performances: whereas
Fall to Me
is a dark tale of seduction told from the point of view of the temptress,
In the Shadows
tells of the hold a possessive ex-lover from an ill-advised relationship still has on the central character - "in the dark of night I call your name..." In
Genevieve
we get a picture of the fragile ties, so easily unbound, that keep a band together - echoes perhaps of Yoko sitting in on studio sessions and making comments - and
Degrees of Separation
charts the frenetic pairings surrounding a disintegrating couple. The only thing I would like to have heard added, I think, is the burnt-wood counterpoint of Mandy Anderson, Cambridgeshire musician and singer, sometime backing-vocalist, and EJ's mother.
Home
is m

y favourite and always has been, through its various reworkings. Like George Lucas, EJ believes some projects are never finished, just left alone for a while (although, unlike Lucas' oevre, EJ's gets better every time). It's a plaintive cry for the securities of the past, within which it seems at last we are allowed backstage to see the actress remove her mask. The line "I just want to go back" brings to mind Seamus Heaney misquoting LP Hartley to call the past "another country". One might add that they do things differently there because life inexorably carries us away from a place where life was simpler and safer, even if that place never quite existed.
Home
reminds me that like any art, great songs are born of great sufferings. Witness Judy Garland's body-image issues; Elton John wrestling with his sexuality; or John Lennon's attempts to transcend his complex personality problems, like Sisyphus' eternal quest to get his rock to the top of the hill.
As Billy Connolly shows, becoming comfortable can render one's art anaemic. But EJ is hungry, angry, raw and ready to serve up pure champagne for the ears and the heart. Her retro-techno style nods in the direction of great performers of the '80's (and even '70's) but she remains, quintessentially, herself.