The Labour Party has
ordered
Tamsin Dunwoody's campaign managers in the Crewe and Nantwich by-election - vacated through the sad death of her mother - to ditch the "class-warfare" tactics.
At first sight, this seems very gentlemanly of them. Looking more deeply, however, perhaps it's related to the fact that Ms Dunwoody (right), who
styles herself
as "a single, unemployed m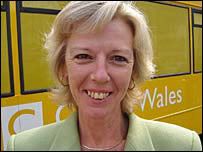 other of five fighting hard for a job" lives in a rather expensive house set in one-and-a-half acres of land. The villa is around 175km from the constituency she is campaigning to represent. This isn't unusual in itself, but what is unusual is that Stephen Ladyman, Labour's vice-chairman, states that Tory candidate
Edward Timpson
"hasn't done anything in the area". This is surprising given that Crewe and Nantwich is in Cheshire, and Ms Dunwoody's last job was representing a constituency in the Welsh Assembly. A good deal has been made in the campaign that Timpson's father is at the head of a chain of shops that repairs shoes. The campaign managers got so carried away with themselves that they forgot the recent history of their own party when they described Edward Timpson, in their
flier
, as
Tory
Thatcher Boy Timpson.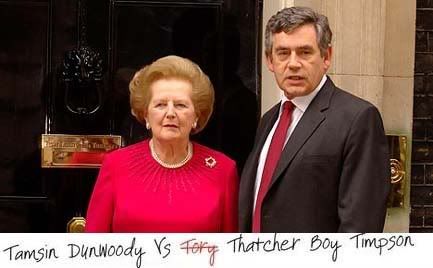 Labour has an ambivalence about class, property and influence - for example, the Blairs collect properties like a Labour-party donor collects honours. Tony Blair, son of a university-lecturer and privately educated at a prominent independent school, had a well-paid job from 1997-2007, it's true; but while he was Prime Minister, his wife would earn a fair whack representing individuals prosecuting the British Government under the 1998 Human Rights Act.

John Major, on the other hand, is the son of a music-hall artiste, and got a job as a clerk after leaving comprehensive school. Margaret Thatcher grew up in the flat above one of her father's two shops and gained a scholarship to a local girls' school.

The late Edward Heath was the son of a carpenter and went to Balliol in Oxford, again through a scholarship. I imagine that Gwyneth Dunwoody, Tamsin's mother and the daughter of a miner, will find him good company. Being somebody who rebelled against the control freakery of Downing Street in the past decade I am sure she would have recognised where the orders for the "class warrior" tactics were coming from, and would have given the pliant footsoldiers short shrift. May God rest her soul.