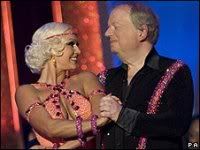 Tonight I cried seeing John Sergeant's last dance on
Strictly Come Dancing
. Or at least I wanted to join the Facebook group of the same name, referred to in the
Telegraph
's article on the veteran political journalist's controversial exit from the BBC celebrity dancing competition - better known internationally under its syndicated title
Dancing with the Stars
, but couldn't locate it. So I joined Facebook's
Boycott Strictly until they bring back John Sergeant!
instead.
It really is a shame, as I wanted to get in touch with my warm, fuzzy and lachrymose side after being referred by
Felix Hominum
to the
Typealyzer
, whose "bloganalysis" of me stated that I "
might come across as arrogant, impatient and insensitive to people that need some time to understand what they are talking about
." Still, being the "
logical and analytical type
", I knew all about my arrogance, impatience and insensitivity from the start, and massively intelligent people like myself have no time for crying over shrinking violets who get kicked off variety shows.
To get back to Sergeant, though, he didn't actually get kicked off. He resigned after being bullied by the show's
four judges
- Len Goodman, Arlene Philips, Bruno Tonioli and Craig Revel Horwood - who would make
caustic comments
, calling his dancing a "travesty" and referring to him as a "
dancing pig
", Philips going as far as turning up on BBC Radio 2 (I think it was on the Steve Wright show) specifically to brief against Sergeant. Sergeant had previously commented that the purpose of the show was to entertain, and that the BBC had signed his contract on this with its eyes open, a point he iterated during a press conference explaining his departure:
This attitude from the BBC is reflective of its general tendency to eat its own children when they are no longer ideologically beautiful. Rolf Harris, probably the most talented painter of our time and presenter of the BBC's most popular art programme ever, has spoken of his frustration that he "
can't get arrested
" by the BBC because of its ageism.
As part of his commitment to charitable giving, Harris is reissuing his 1969 hit
Two Little Boys
with all proceeds going to
The Poppy Appeal
on the 90th anniversary year of the end of the First World War.
I can't knock the BBC on the subject of supporting charities. However, if you want to give ethically, charitable giving at a remove can be vexed. For instance, I was quite devastated to find out from Radagast's blog, "
Witness to Love
", that BBC Children in Need, the brainchild of my hero Terry Wogan and a charity I've supported financially and
on this blog
, has supported
organisations like Brook Advisory and members of the Association of Medical Research Charities (AMRC) during the last 17 years. Brook Advisory is one of the largest abortion providers in the UK and the AMRC campaigns for the use of human embryos in 'research' and supports the development of contraceptive vaccines for use in influencing "world population problems".
I'd like to know if Wogan knows about this and, if he is aware and supportive of it, I think it would be interesting to hear how he defends it.
The big story about the BBC, of course, is that behind
criminally obscene phone calls
made by Jonathan Ross and Russell Brand on the latter's radio show to the grandfather of a woman Ross claimed Brand had had sex with. The backdrop to this particularly tawdry episode in the decline of a great broadcaster is becoming more and more incriminating to ever more senior BBC managers, it now appears that
Lesley Douglas
, former Radio 2 controller, didn't even listen to the programme pre-broadcast; who on earth was supervising the woman? And haven't executives realised that the whole farce may have legitimised, in the eyes of some, upsetting phone calls to the families of BBC broadcasters and managers as a valid course of reparative action?
The BBC makes some of the best content in the world, but is also adept at clawing at the bottom of of the barrel - not just with the abovementioned; a general abrasiveness pertains which saw a comedian in
Mock the Week
make "
a highly offensive remark about the Queen
" - on a programme that was
repeated
as the Ross/Brand scandal raged.
In the article linked to above, we are told that David Davis MP is urging people not to pay their
licence fees
- currently at £139.50 ($208) until the last possible moment. Others, most notably the
Spectator
's
Charles Moore
, are spearheading a move not to pay the licence fee at all, but rather to donate the money to charity - in Moore's case, Help the Aged, to highlight the BBC's ageism.
We need to hit the BBC, we need to hit them hard, and we need to keep on hitting. So, tomorrow, Maxima and I are going to get our heads together to discuss what for me may be the second time in my life when I have knowingly broken the law (the first time being when I bought Minora cigarettes, but that's
another story
). I'm not telling people that they should break the law similarly, but there's certainly a lot of good causes that need money - one I can think of off the top of my head is
Across
.
As for
Strictly Come Dancing
, I won't be watching the rest of the series - a subsidiary reason being Len Goodman's remark to dancer Christine Bleakley to "whip off your knickers and swing them in the air", which seems to have been the reason for a remark from host Bruce Forsyth, later in the show, about the programme going out before the watershed. The main reason, however, is that I don't need to watch it any more to find out who won. The moral victory goes to the beautiful, elegant and dignified Kristina Rihanoff, and the equally dignified (if slightly less beautiful) John Sergeant.
Related posts:
The bug letter - when 1 is more than 63,000
what the hell was all that about?