A friend of Maxima's had a leaving do in the Draughty Old Fen yesterday, before she goes
to Africa.
Hélène Evans (right), a nurse from Cambridge, is leaving next month to work with a two-week medical outreach to the Naroka district of Kenya called the Maasai Medical Mission, which has been led by GP Dr Richard Scott since 2002, (b
efore which he'd went to Kenya with
Through Faith Missions
) at the invitation of Pastor David Kereto.
I have to admit, to my shame, that I was ignorant of the Maasai people of East Africa until they touched my world in 2008. Six of the tribesmen from across the border in Tanzania - wearing recycled car tyres as shoes - came to run the Flora London marathon in order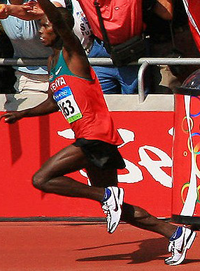 to raise money through sponsorship to instal a fresh-water well in their village. (The next year, the marathon was won by Kenyan runner Sammy Wanjiru, setting a course record).
Hélène writes:
The Maasi is a true pastoralist. Farming is anathema to them. They are hospitable, generous and affectionate, love their children, unbelievably domestic and gentle, and religious. They are firm believers in the one God - Engai, but are plagued by a fear of evil spirits. Bravest of the brave, a warrior tribe living the life they have lived over hundreds of years.
They see Engai as a creator-god associated with a mountaintop who gifted all the world's cattle to them. As well as travelling around the area to provide midwifery advice, dress wounds, treat malaria and the after-effects of polio, they will be bearing witness to another Creator God who was originally associated with mountains (see the experiences of
Moses
,
Elijah
and
Jesus
).Again Hélène writes:
Who is my neighbour in today's global village?

99% of all maternal deaths, 98% of all child deaths and 80% of all AIDS deaths occur in the developing world, yet this is the place where resources and workers are fewest. In Sub-Saharan Africa, 3% of the world's health workforce cares for 10% of the world's population bearing 24% of the global disease burden - with less than 1% of the global health expenditure.

The Good Samaritan helped a stranger because he saw this desperate need. How can we respond to the enormous needs we see in other parts of the world? There are many ways we can get involved - going, giving, praying, partnering, teaching, training - and more. Maasai Medical Mission aims to play a part in bringing God's love and care to some of the poorest people in the world.
Hélène is asking for three things:
First, pray: for Dr Scott, Pastor David Kereto (right), Hélène, and the rest of the Maasai Medical Mission 2010 team.
Second, if you can contribute financial aid (towards eg flights/food/water/petrol/staff costs etc) or medical supplies, please contact Hélène on
penhydd1740@yahoo.co.uk
.