Click this link to view top ten songs about Women's Week
for broadband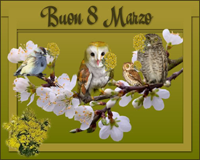 I first became aware of
Festa delle Donne
(Women's Day) in the 1980s in Italy, which is quite appropriate as
that is where it appears to have begun
. At the end of the Second World War, it was decided to consolidate several days celebrating women in March, some with roots in antiquity, in March 8. I remember going to university and seeing just about all of the women wearing flowers on their coats - small, white flowers, I wish I could remember the name.
March 8 is still, of course, International Women's Day, but it has accrued a whole week around it, which this year lasts from Saturday 5 March to Saturday 12 March, with the day itself in the middle on the Tuesday. And, as a bonus,
Women's World Day of Prayer
on the inaugural day, Saturday March 5, focussing on Cameroon.
I'd been planning a Top Ten pertaining to women for some time, because I looked at my music collection and saw that there were few women fronting a band or singing solo there: Carole Fredericks, Ulanda McCulloch and Bonnie Tyler, for example, and, of course, Cambridge-born songstres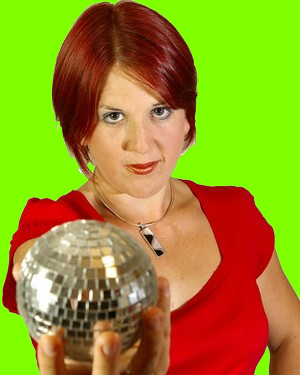 s EJ Norman (right - click to hear her music). Is collecting music by other blokes something men do when we graduate from stamps?
It's not an idle question: last night I had a bath, which among other things affords me the only opportunity I get to read for a prolonged time, and had BBC Radio Cambridgeshire on the shower radio. Having the germ of this blog in my head, it shocked me that well over an hour passed between hearing one female vocalist and the next, despite there certainly being no dearth of good music written and/or performed by women. If this phenomenon is threaded through the fabric of society, is it possible that, say, all-wom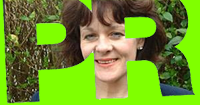 en shortlists to select Prospective Parliamentary Candidates - which I've always felt vaguely uncomfortable with but are supported by many including
Ellee Seymour
- are the way ahead?
On the other hand, the opposite situation doesn't pertain with Maxima: although she certainly listens to more female vocalists than me - like Diana Ross, Nancy Griffiths and Katie Melua - she also has in her collection The Jam and the Police (with their respective solo leaders Paul Weller and Sting), Madness and Planxty, as well as her family's favourites such as Guy Mitchell and Tommy Steele. (And Buddy Holly. Being a Buddy Holly fan makes life easier in our house.)
Making a list for this post, I found myself trying to identify only pieces sung by women but also composed by women, and wondered if I were unconsciously applying a sort of gender-apartheid? The thing is, if I am, I am therefore part of the problem and will be unable to appreciate it from the outside. I'm confused...
10 - what men think women think
I can only ever write this post from the outside, so here's Nick Lowe with
Girls' Talk
, showing how men can be paranoid about women when there aren't even any present.
http://www.youtube.com/watch?v=7fpW1thGues
9 - self-assurance
Beverley Knight released this recently with Chaka Khan, and these lines go right to the heart:
Where's the man to quantify
Everything I'm worth and who I am?
He should look me in the eye
Tell me where he figures in my plan...!
http://www.youtube.com/watch?v=YAwPuJAbHPE
8 - remembrance and sorrow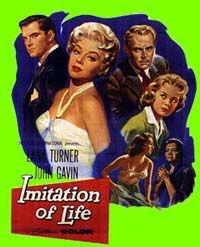 Fannie Hurst's 1933 novel
Imitation of Life
was filmed twice, the 1934 version being eclipsed by the 1959 one - which I remember watching with my Mum in the late 1970s: here Mahalia Jackson sings at the funeral of the black woman who brought up a white girl who didn't quite appreciate the worth of her foster-mother until it was too late.
http://www.youtube.com/watch?v=__DcBjGBlVc
7 - remembrance and joy
http://www.youtube.com/watch?v=3uZz3Hak0zc
6 - the girl he left behind
All around my Hat
was originally written from the viewpoint of a minor English criminal sent to Australia for several years, but here legendary folk singer Sandy Denny fronts Steeleye Span in turning it round so that the girl he leaves behind will wear a ribbon in her hat for "a twelve-month and a day".
http://www.youtube.com/watch?v=3zzwbYyvWiU
5 - sticking with it
French singer/songwriter Jean-Jacques Goldman (who wrote for Céline Dion before she started singing in English) found himself surfing TV channels one night and was suddenly faced with a documentary called "Far West", part of which dealt with a group of nuns in the delivery suite of a maternity hospital. He was amazed by the footage and wrote a song that he performed with the supergroup he formed with his chums Michael Jones and the late, great Carole Fredericks. Even if you don't speak French, there is a part of this video that will literally stop your heart.
http://www.youtube.com/watch?v=C-2oIj8NTNc
4 - incertitude?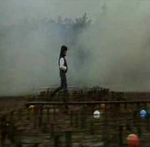 Nena (Gabriele Kerner) released
99 red balloons
(or luftballone) in 1983, not long after a British TV survey of the concerns of schoolchildren revealed nuclear war to be their greatest fear. Towards the end of the video, set on an army assault course in Germany (the father of one of the band members was a NATO colonel), if the band look distressed, it's because they were: unscripted gasoline bombs were exploding around them. But it made for a good video.
http://www.youtube.com/watch?v=14IRDDnEPR4
3 - identity
Here Gali Atari, who won the 1979 Eurovision Song Contest for Israel singing
Alleluia
wih Milk and Honey, sings of the joy and the pain of belonging to a place one cannot separate oneself from.
http://www.youtube.com/watch?v=roD7i5xYCx0&feature=player_embedded
2 - What have they done to the weather?
Originally released as
Weather Song
, writer Malvina Reynolds wanted to highlight the effects of nuclear testing, which - reports the
Telegraph's Bonnie Malkin
, is still bearing bad news to the Aboriginies of the Australian outback. For a while, this became the anthem of a generation sufficiently secure behind their countries' nuclear deterrents to call for said deterrents' dismantling. (See the passionate support of the recently demised Labour leader Michael Foot for the
Campaign for Nuclear Disarmament
, which he helped found.) Here it's sungby one of the most beautiful voices of all time, Judith Durham, with of course the Seekers.
http://www.youtube.com/watch?v=I3DqC5c8VDQ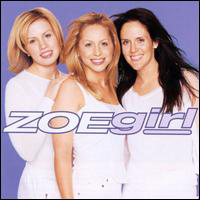 1 -trust
When Minima asked to play this at the start of an Advent course and I heard the first few lines, I thought it was time to hide behind my hands; but I hadn't trusted her enough - just over halfway through the song by Nashville-based Christian band Zoegirl, the lyrics develop to completely change the meaning of the piece.
http://www.youtube.com/watch?v=cwmkg6mpUC8