I'm not doing too well this Lent. Last year, I gave up a couple of pints a we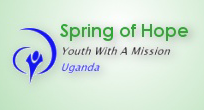 ek and gave the money to charity. This Lent I've had to learn editing from scratch to publish the village magazine - although I was priveleged to learn from somebody who'd done the job in professional and voluntary roles for decades.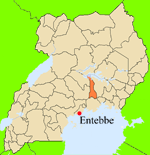 So it was good to be sent a photo-update of a charity I was made aware of soon after moving to the Draughty Old Fen: the
Spring of Hope
foundation (part of the
Youth with a Mission
group) which helps disabled children in Uganda - much are in their clinic in Wabwoko, which is in the Kayunga District of Uganda, shaded orange in the map to the left. I'd like to share some of these photos with you, with the original comments.
Click here to go to the Spring of Hope blog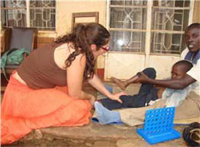 Emily (volunteer) and Victor (OT student ) on a home visit!! Feb 2010, we saw our first Uganda OT students come from Mulago training hospital!!
Our deaf children from both schools were able to visit the zoo in Entebbe thanks to Roxy fundraising!!
22nd Feb 2010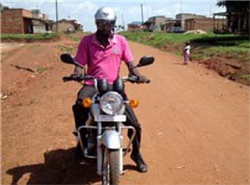 We bought our 2nd bike, after a previous volunteer Melanie fundraised. Moses is now out and about in the community. Children in Wabwoko are at last receiving weekly home visits!! Bought Feb. 11th
!!
Carolyn(volunteer) and Moses counting medications at the end of a very busy clinic,. At this clinic in Wabwoko we received 96 epileptic patients!! Feb 12th!!
Children and parents at the clinic in Wabwoko. Feb 12th!!
The last pic really struck a chord with me because I remember the sense of wonder and getting bigger exuded by both my children when they started school, something I think one can see on the face of little Zachariah as he starts on his own incredible journey of education, thanks to Spring of Hope.