Personally I prefer to watch dancing on the TV and listen to music on the radio, as it doesn't work so well the other way round. So I tend to prefer
Strictly Come Dancing
(called this here instead of
Dancing with the Stars
because in the UK we had a programme called
Come Dancing
that ran from the 1940s to the late 90s) to
X-Factor
.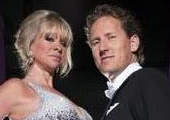 But the BBC seems unable to do anything without introducing a degree of the bullying that is institutionalised within the organisation as it exists today. Last year's
Strictly
was marred by the judges' campaign against
John Sergeant
for his crime of consistently being the public's favourite, and this year Craig Revel-Horwood homed right in on
Jo Wood
, who was so vulnerable as her marriage to the spectacularly adulterous Ronnie Wood deteriorated that her partner Brendan Cole admitted he didn't know how to move ahead. I stopped watching at these points.
However, there's much more chattering about the challenging manner of Simon Cowell on ITV's
X-Factor
, which a Brit would have to be Rip Van Winkle with extra somnolence on the side not to have heard about, and which has just finished in Britain.
Cowell is a hard-nosed businessman but not a bully: there's a difference. He puts his charges under pressure deliberately because the business side of showbusiness is not known for its touchy-feeliness. But he will accept the mitigations of his often kinder co-judg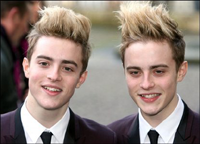 es Louis Walsh, Danni Minogue and Cheryl Cole - and, crucially, he accepts the public's votes, not least as regarded atonal Irish teenagers Jedward (John and Edward Grimes) whose style I would find difficult to describe.
Jedward were interesting. Had they won the X-factor every adult in the land would have been annoyed to bewilderment; but it's happened before, that's what punk was about. For a brief and - for them - shining moment they had the sort of notoriety I haven't seen a TV programme bestow since we all ran about buying stickers saying that we'd killed JR.
Both
the Labour and Conservative parties brought out eve-of-war posters casting each other as the surreally-coiffed pair, which is certainly something the lads can show their grandchildren.
(Click on the two pics below to read more on Iain Dale's Diary)
Which is something good. There seems to be a perception that Simon Cowell is depriving his protegés of something by not guaranteeing them a cast-iron contract that will ensure decades of success. It's not like that, because the entertainment industry remains one wher
e talent will out: and it's notable that Hear'Say, who won a 2001 talent-show programme called
Popstars
, contained classically-trained pianist
Mylene Klass
, while
Britain's Got Talent
, another of Cowell's vehicles, was won in 2007 by a tenor called Paul Potts who'd been winning smaller-scale competitions for years, and this year's runner up in the competition, Susan Boyle, has famously been singing in clubs for decades. Talent shows, whether they be on the end of a pier of in front of a TV audience, don't create talent, they merely give it a platform.
I wish winner Joe McElderry well. For as long as Cowell keeps him on his label he won't go far wrong, because people who are good at making a lot of money generally don't s
et themselves or their money-makers up to fail, which is perhaps why much of the commentary has a jealous edge to it. And if McElderry's single
The Climb
makes number one - which despite highbrow harrumphing is a big "if" given competition from
George Michael
and the
Children in Need single
- it'll be for no other reason than that people choose to buy it. He may prove to have staying power like Myleene Klass, but if he doesn't he'll have a pile of stories to tell his grandchildren. And, thank heavens, he isn't Jedward.