This week's
Question Time
on BBC 1, starring Nick Griffin of the white-supremacist British National Party, went off with all the brilliance of a damp squib.
Professor Calculus and I usually don't watch TV (except for the odd snooker or cricket game) when we meet to put the world to rights over a glass of wine, but we watched QT to see the newly-elected MEP for Yorkshire and Humberside crumbling in the face of real politicians, only to see what Cranmer called "
the Nick Griffin show
". Griffin certainly faced some hard questions, but smirked through them - and at one point was challenged by host Jonathan Dimbleby for smiling when talking about Holocaust denial - and, in the words of James Bethell, founder of the blog
There's Nothing British about the BNP
, "
retired wounded but on his feet, fit to fight another day
".
The BNP leader is never on better form than when playing the victim for the mainstream media - for example, when protestors massed to raise awareness that Griffin was
speaking at the Oxford Union
with fellow Holocaust denier David Irving, they did their job so well that Griffin was able to grandstand on the national News about "people coming hundreds of miles" to be offended by him.
Having said that, the killer comment of the programme came from a young chap wearing a Kippah (skullcap worn by Jews), who stated, in response to Griffin's claim that Winston Churchill would have been a member of the BNP:
Sir Winston Churchill put everything on the line so that my ancestors wouldn't get slaughtered in the concentration camps. But here sits a man who says that is a myth just like a flat world was a myth.
Griffin stated the law prevented him from disclosing why he had "changed his mind" on the Holocaust, at which Jack Straw, as Justice Secretary, said he wasn't aware of any law which would punish him from doing so.
For me, the best bit was Baroness Sayeeda Warsi stating that Britain needed a cap on numbers of immigrants coming into Great Britain, which echoed a
Telegraph
article written by Labour's Frank Field and the Conservatives' Nicholas Soames, co-founders of the
Cross-Party Group on Balanced Migration
which states in its title that
Cowardice on immigration has allowed the BNP to Flourish
and adds that the asylum system, designed to identify individuals in genuine danger of persecution or death should they return to their own countries, has "collapsed". The story defining its collapse has to be that of a Bolivian man whose appeal against deportation was upheld by Judge James Devittie
because he'd bought an English cat
. In a startling exclusive, the
Telegraph
's Tom Whitehead reports that Andrew Neather, who had been an advisor to Jack Straw, former Home Secretary David Blunkett and former Prime Minister Tony Blair claims that mass immigration - the
Bête Noire
of the BNP - was "
partly due to a politically motivated attempt by ministers to radically change the country and rub the Right's nose in diversity
". (Baroness Warsi's comments on immigration start at 2:38 in the video below.)
True to form, Griffin is again playing to the gallery with a complaint that he faced a "
lynch-mob
"in the
Question Time
audience, and that the programme's format had been changed so that it focussed almost entirely on him.
The BNP has a Hitleresque tendency to build a delusional system around a truth, and this is no different. Griffin has a valid complaint here, and Professor Calculus and I agreed that we would've liked to see him drawn out on issues like, for example, Lord Mandelson's manipulating the
Post Office strike
to soften up the organisation for privatisation, and British banks' reactions to the global financial crisis.
The other "lynch mob" that protested outside BBC Television Centre in London showed socialism's deep-seated ambivalence about fascism, in that they were protesting against a man elected to the European Parliament almost totally by Labour voters disaffected by the Government's ideological method of government that has turned their country into a place they no longer recognised. I wonder if any of them were related to the trade unionists who took to the streets in support of Enoch Powell's 1968 address to Conservative Party workers at Birmingham's Midland Hotel (mis-named the "
Rivers of Blood speech
"), in which he anticipated Labour's silence on immigration:
Above all, people are disposed to mistake predicting troubles for causing troubles and even for desiring troubles: "If only," they love to think, "if only people wouldn't talk about it, it probably wouldn't happen."

Perhaps this habit goes back to the primitive belief that the word and the thing, the name and the object, are identical.
Or, indeed, if they were descended from the freedom-fighters who fought at the Battle of Cable Street in London's East End against black-shirted fascists led by Oswald Moseley, the Independent Labour Party MP who, disappointed by his party's response to unemployment, left in 1930 to form the New Party. Gordon Brown, in
Maxton
, his biography of the hard-left Scottish MP, records that when Moseley left James Maxton said that "
he ought not to be condemned but thanked [because] his actions s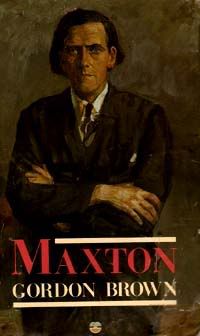 howed a deeper sense of responsibility about the unemployed and might lead to a 'new direction' in government policy
". And just as the Nazis' response to Germany's economic woes was nationalisation on a massive scale, the BNP's website (which describes the three main parties as "liars, buggers and thieves") proposes nationalisation as a panacea for Britain's. One gets a sense of the political spectrum not as a line but a circle, where "hard-left" and "far-right" occupy the same space.
So whither the BNP? I hope that former Labour voters in north-west England who sent Nick Griffin and Andrew Bron to the European Parliament will withdraw from the abyss come the General Election and vote for the non-fascist party of their choice. But what worries me is the party's attempts to woo the forces, some of whose members, under-resourced and viewed with suspicion by the Government, may seek solace in their empty promises. I finish with a video (sorry, Pam!) from the
Nothing British Operation Stolen Valour
. Please
click the link
and visit the site to view the fightback against fascism in Great Britain.
The episode of Question Time discussed can be accessed on the BBC's i-player on the Question Time Site. If you're unable to access it, it's available in parts on YouTube - click here for part 1.