My Mum used to keep her most treaured memories in a battered brown case which her Dad had given her on her first day of school, and which she'd been as proud of all her life as she had been that first day.
There was a time after her death that I found it difficult to open the case because, I guess, the presence of her treasures accentuated her absence. But I've found it easier of late as old man time does God's work. I'd like to take you through some of them.
Her first house was a tenement in the Townhead area of Glasgow, Scotland. Once, she was snapped by a breed of photographer who would go round taking pictures of children from poorer areas which they would present as proof of the effects of deprivation upon the people of Scotland. Apparently her Mum exploded when she heard of the photo - of two kids having fun in a dirty street - and, having tracked down the photographer, demanded a copy. This was with another photo, taken ten years later on the eve of the war, when they'd moved to the city's Garngad area, now called Royston. Her Dad had borrowed a horse and cart from a fellow Independent Labour Party member who was a coalman. To the horror of her Mum, a Conservative voter, the cart would only move if it heard the strains of
The Red Flag
. I wouldn't like to have been a fly on the wall of their new flat that evening. (My Mum's on the right in the first pic and the left in the second.)
She was delighted by cigarette cards in her youth, made by Wills, who'd had a factory in Glasgow's Dennistoun area. In her case I found two full albums, on on the reign of King George V, and the other entitled "Our King and Queen", of King George VI, who came to the throne after his brother resigned to be with Wallis Simpson in 1936, the "year of three kings", and his bride Queen Elizabeth, who as the Queen Mother lived happily into the 21st century.
Hospitals played a big part in her life - in 1939, balancing on the huge sink to put up a blackout curtain in her kitchen, she fell and landed on her back. It must have been some fall, because she ended up with TB in her spine. She spent a lot of time in Mearskirk hospital, a sanitorium for younger people (then known as children). She would recall how Danny Kaye once visited, presumably on his way to entertain the troops after America's entry into the war, and had to be asked to tone down his jokes as patients who'd had operations were laughing so much their stitches were bursting. Soldiers in training would patrol the grounds - she once heard a terrified private wail to his Sergeant that he'd gotten his finger trapped in his gun's muzzle: goodness knows what he'd been thinking.
After the war, she volunteered as a Red Cross Auxiliary in the Royal Infirmary, where she worked in casualty. She'd spent some time in a children's ward, but had to ask to be moved as their suffering and deaths upset her terribly. It was a time when auxiliaries could be "made up" to enrolled nurses without training, and she was later offered the chance to train as a state-registered nurse, but demurred as she was scared of taking the exams.
An unhappier association with hospitals occurred early in childhood when her brother James, when in Ruchill Hospital - then a fever hospital - was left alone in a bath. He'd somehow managed to twist about and turn on the hot tap, and was scalded to death. Her Dad saw the nurse who'd been responsible later in the Royal Infirmary, and had to be restrained. The only newspaper to record the event, in December 1928, was Forward, the house journal of the Independent Labour Party. In later years she tried to locate the article in the city's reference library, the Mitchell, but the relevant page had been torn out.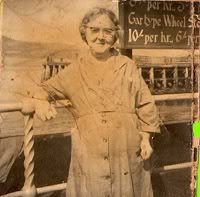 Glasow was then a port, and a world-class shipyard industry burgeoned on the shores of the Clyde. Water featured in her life in a major way, whether it was holidays in Blackpool, to where much of Glasgow decamped during the Fair Fortnight, or, more usually, "Doon the Watter" to the the holiday resorts and islands in the Firth of Clyde. Rothesay was her favourite place, and in her case were photos of her Mum and my Dad there - and one of herself before leaving for New York for two years, possibly to clear her head and decide whether or not to go.
I'm not sure why Mum went to America - possibly she was entranced by the films from over there she'd been watching all her life, perhaps she just wanted a change of scenery. But she loved it, and would tell me of all the great films she'd seen in Radio City Music Hall - The Flower Drum Song comes to mind - preceeded by huge live dance numbers. The programmes she'd kept of many years of theatre- and cinema- going included one from Radio City, as well as another from Jimmy Logan's Metropole Theatre in Glasgow that featured one of her favourite acts, The Alexander Brothers.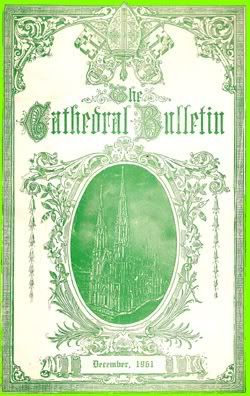 My Mum had a bit of a renaissance in NY; I still have her Longfellow anthology, and her love of poetry even inspired her to write a song, regarding which she signed a contract with the Songwriters' Contact Co. I'd thought the song lost, but it slipped out of a book. I'd last seen it when I'd barely made double figures, and was quite taken aback by the power of remorse in the song, which ends with talk of "emptiness, loneliness and fear" as the result of a decision. Maybe it's just a song, or maybe she'd went to America because she'd had an argument with somebody? I don't know.

In New York she worked in the Rectory of the Sacred Heart church, and made an Irish friend called Rose who worked in St Patrick's cathedral. They would go to films and shows together, and compare notes of potential boyfriends. It was Cardinal Spellman's time at St Pat's - Rose once wangled an appointment for Mum to have tea with America's Papabile.

She returned to Scotland after hearing her mother was unwell and specifically after watching Breakfast at Tiffany's. I don't know what part of the bittersweet
tale of lost souls spoke to her, but she broke her boyfriend's heart and returned home.

Before, during and after her stay in America the rich life of the Roman Catholic Church was the thread holding together the fabric of her existence. She'd often talk of missions to St Roch's run by the Passionists, who would tell her "I have only one soul to save", and which would end with a solemn procession to look into a coffin which turned out to have a mirror in it so that you were looking at your own face in the coffin.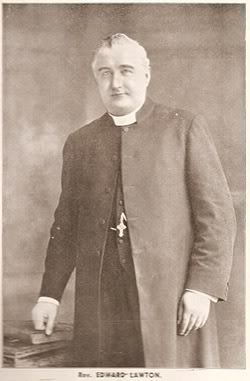 I found three pictures of past priests of St Roch's in her case. The first was the church's first pastor, which was founded in 1907 as a satellite for the nearby St Mungo's, and is, I think, the city's seventh church to bear the name of the Languedoc-born plague saint since Mungo himself founded Glasgow by a stream in the Kingdom of Strathclyde. His name was Father (later Canon) Edward Lawton, and he was a Justice of the Peace who was unafraid of giving abusive men an object lesson with his famous and feared umbrella.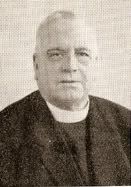 The second is of Canon Boyle - I remember Mum telling one of his relatives, also a priest, about a time when Fr Boyle came into the chapel hall during a dance and, observing a conga-line, switched off the record-player and ordered that the wicked gyrations cease IMMEDIATELY!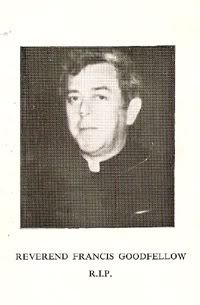 The first two were before my time; the third picture was of a priest I remember with affection as a kind, gentle man who always thought of others before himself. He had been tortured while on the missions in Africa and, once while saying Mass, the microphone fed back: he went pale and his eyes seemed to be looking through the altar into unimagineable depths. He'd come back to Scotland to die and the church seemed to be missing something for a long while after he'd completed the great work.
Something that left Mum nonplussed was the speed with which the Novus Ordo Mass - the Mass said in the vernacular with changed words and gestures, and with the priest facing the people, instead of in the same direction of the people and (usually) in Latin - was introduced. She liked to keep track of the changing appearance of St Roch's: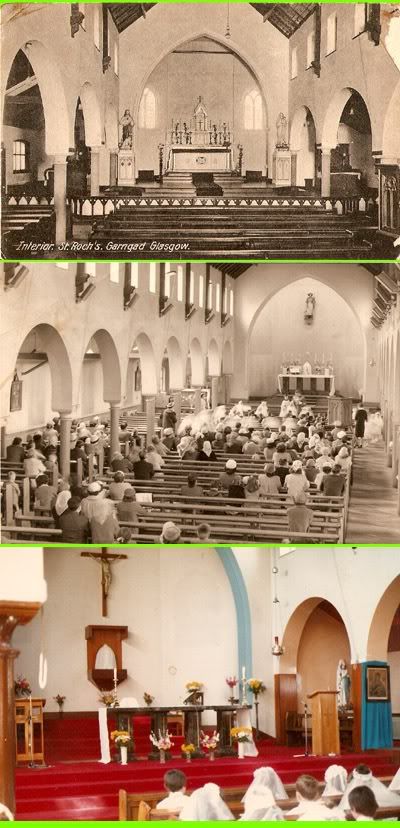 The last picture in the series above is how I remember St Roch's, having had many happy memories there. My Mum would tell me about local changes generally, and I remember the M8 being built not far from the church, cutting Royston off from Dennistoun except for underpasses which were sometimes only for the brave as areas were planned by people who would not have to live there. But she still had friends who, like friends everywhere and at all times, would reminisce about the old days and tell each other there was once a better time.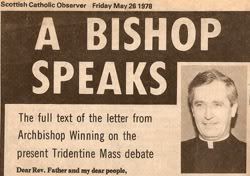 Were they right? What caused my Mum most pain were changes that were not made pragmatically in relation to changing circumstances. The Second World War, for example, brought tremendous changes, but events in Europe made it unavoidable - and shortly before the war the failing tailor's she worked as an overlocker in, in the city's Candleriggs, started producing soldiers' uniforms, which granted it several years' grace. On the other hand,
the bulldozer-led massacre of many communities
on a promise of a better Glasgow that never quite materialised is still causing consequences. And she never quite understood why changes in the Mass, that were perhaps unfairly laid at the door of the Second Vatican Council, were made so quickly and seemingly so irreversibly, causing another dislocation from the safer place of her younger days.
Happily, with the introduction of Housing Associations people who live in rented accomodation have a greater say than ever on some issues affecting their environment, and the Tridentine Mass is returning as sabres are carefully sheathed. But I don't think my Mum would have recognised, say, tenants that turned streets into no-go areas put into houses replacing crumbling tenements as progress against antisocial behaviour, or the release of the Lockerbie bomber on humanitarian grounds as justice. But the world turns, and in turning sometimes brings us somewhere that starts to look like home - somewhere that we recognise the rules of the game; where tradition matters and memory and experience are respected.
And my Dad? He's the subject of one of my favourite documents in my Mum's case. He once had a job as a porter in Tennent's Brewery (now Tennent-Caledonian) in 1960s Dennistoun, and a workmate drew the following cartoon of him:
I hope you enjoyed my Mum's memories. Please spare a thought and whisper a prayer for the ghosts you've met.
related post: the rhythms of lives