Being in my early teens when Margaret Thatcher was elected Prime Minister on Friday 4 May 1979, I was more interested in music than anything else; Jimmy Saville had presented
Top of the Pops
the night before, announcing, I think, Blondie at number 1 with
Sunday Girl
, which even my Mum, no rock fan, preferred to the previous incumbent Mike Batt's funereal
Bright Eyes
, sung by Art Garfunkel. Eurovision Song Contest winner
Hallelujah
, by Gali Atari and Milk & Honey, remained in the top ten, and I still think it beats the two number ones hands down. Gary Moore - in mid-divorce from Thin Lizzy - had made the top 30 with his genre-changing
Parisienne Walkways
. The Shadows, on their way to the top ten, had just gotten to number 40 with
Cavatina
, theme from
The Deer Hunter.
I also remember - they're hard to forget - the strikes. Taken collectively, strikes in the winter of 1978-79 saw the largest withdrawal of labour in the country since 1926's General Strike. Gravediggers in the Liverpool area struck for higher pay for a fortnight, sparking fears that the area's dead might be buried at sea. It was one of the shorter strikes - ironic, since it became the cause célèbre of the period, and one of the reasons British scandal-rag The Sun christened the season the "winter of discontent". Many folk thought it a very cleverly-coined phrase, not realising it came from the opening line of Shakespeare's Richard III, where Gloucester is actually proclaiming the passing of said winter:

Now is the winter of our discontent
Made glorious summer by this sun of York;
And all the clouds that lour'd upon our house
In the deep bosom of the ocean buried.
Mrs (now Baroness) Thatcher took advantage of Shakespeare's original theme of winter turning to "glorious summer" in her
Party Political Broadcast of January 1979
, which was subtitled "Winter of Discontent" (although she never used the misquote in her speech) and which the
Margaret Thatcher Foundation archive of her speeches
rates as "key".
There were far fewer strikes during the following Conservative administrations, for the simple reason that the Conservative Party did not and does not mortgage its agenda to false and dangerous pro
mises - something even the Socialist Workers' Party recognised in a 2002 article laying out the Labour Party's many failures in 1974-79, entitled "We struck because Labour betrayed us."
Anybody who lived through the 1980s in Great Britain knows it was no tea party, but Margaret Thatcher, among many other things, reformed union voting procedure to bring it in line with democratic best practice and lessen the possibility of coercion; faced down the illegal, year-long miners' strike, which was ostensibly about pay and conditions but which National Union of Mineworkers leader Arthur Scargill intended as a precursor to violent regime change;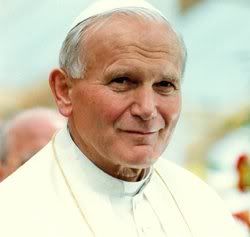 and formed a triumvirate with Ronald Reagan and Pope John Paul II whose steadfast action and resistence to bullying was the sine qua non of Soviet communism's downfall.
In 1979, commercial punk having already burnt itself out, Abba had two albums in the year's top ten. It still has an album - Abba Gold - in this week's Top of the Pops top 40. Whereas in 1979 there was little evidence of the various forms of electronica which would feed upon the ashes of punk, it seems now that every innovation possible to popular music has been mined dry, and not only do we see bands that could stand proudly beside Blondie and her comrades-in-arms in the charts - like the Killers, the Kaiser Chiefs and Fleet Foxes - but old friends too: Chris de Burgh's album Footsteps is at no. 13, Carole King's Tapestry at 20 and Dusty Springfield at 30. And, of course, Bob Dylan, who released his first album in 1962, has just seen Together Through Life hit #1 in both the UK and the US.
Just so, we witness once more a sovietisation of British politics, with more quangos and committees than you can shake a stick at, and decisions that will have the greatest impact on British people taken away from the House of Commons. It didn't work before and it's not working now.
In the Winter of Discontent, rubbish was uncollected because of strikes; now it's not collected if it's the wrong kind of rubbish. Then, many NHS hospitals were only treating emergencies because of strikes; now, it's not unknown for people to come out of hospital sicker than when they went in because there is a surfeit of administrators and managers and a shortage of clinical staff on the ground.
Then, the actions of Labour, be it in exacerbating financial crises or personal feuding, led millions to vote Conservative who would never have thought of doing so before...funny how some things don't change, isn't it?
Margaret Thatcher's political legacy is alive and well and has changed politics, I believe, for many years to come. I believe that, when Gordon Brown (or his successor) finally suffers the British people to have an election, David Cameron will lead from the front, and return the House of Commons to it pre-eminent place that the respect the Conservative Party has for the British people demands it have.
Add in some good songs, and we might once more see the ice melting.