The shouting's already starting for the British General Election; even so, Tim Montgomery, editor of ConervativeHome, still managed to use the camera he got for Christmas to capture some stunning images of London a it recovers from the festive period.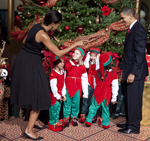 Fr Tim Finigan, as well as being a theologian, is a headmaster's son; here on The hermeneutic of continuity he shows where US President Barack Obama gave hostages to fortune while delivering a Christmas address to a group of children.
This one's just in: David Appletree runs JIDF, the Jewish Internet Force, which monitors and fights hatred of Jews on the Web - including on established sites like Facebook and YouTube which, if you're not aware of the extent of antisemitism on cyberspace, evince malevolence on a stunning level. He's just released a Bulletin of Jew Hatred for December 2009.




Interested in puzzles of all sorts? Here's the best puzzles of 2009 from puzzles.com!
Great Britain isn't the only country facing elections this year. John Smeaton, SPUC Director outlines the main points of a pro-life catechism produced by the Filipino Bishops' Conference for the country's forthcoming poll that provides pertinent points for people concerned about attacks on the value of human life everywhere.
It's easy to recognise an internet scam when you're looking at an email offering you $5m if you send your bank details to Nigeria, but it can be salutory to remind oneself of how subtle these tricks are coming. allfacebook.com sets out 5 tricks currently popular with scammers on Facebook.

Finally, the limits of "justified personal attack" in cyberspace are tested, reveals Will Heaven, as the Twitter #Kerryout campaign to oust Labour's "Twitter Tzar" Kerry McCarthy continues unabated. It will be interesting if, less than a year after the party commissioned Derek Draper and Damien McBride to smear, among others, Tory Party leader David Cameron and his wife Samantha in the shadow of the death of their infant son, the people's party appeals to morality.