10 -
Turn, turn, turn
You know it's the 60s when you hear the screaming at the start of this clip from the US music show
Shindig
that sets the theme for this month's top ten. It's a setting of
Ecclesiastes 3:1-8
by Pete Seeger, the man of peace who had to be restrained from taking an axe to Bob Dylan when he went electric at the Newport Folk Festival in 1965, illustrating peaceniks' curious propensity for violence when things
they
care about get messed with. Seeger reportedly donates 45% of donations from the song to the Israeli Committee against House Demolitions, which opposes houses being built by Jews in the country's so-called "occupied" territories, and has been accused by
NGO-Monitor
of using "
demonization rhetoric that is unrelated to housing issues,...participat[ing] in anti-Israel events
" and promoting "
a highly politicized narrative of the conflict, falsely accusing Israel of ethnic cleansing and state terrorism
". Here's the song:
9 -
A time to be born, a time to die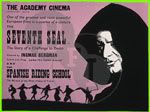 The Seventh Seal
is Ingmar Bergman's masterpiece based on
Revelation 8:1
, which speaks of a silence in Heaven when the seal of the title is opened by the Lamb of God. The film's influence on cinematography stretches from Arnold Schwarzenneger's soul-searching
Last Action Hero
to
Bill and Ted's Bogus Journey
and many points in-between (for example the epic chess game in
Harry Potter and the Philosopher's Stone
). I first heard Scott Walker's 1969 tribute to it quite recently on Stuart Maconie's BBC Radio 6 show
The Freak Zone
, in which he showcases progressive rock, psychedelia and the forgotten delights of music that doesn't make it onto more mainstream shows.
8 -
A time to kill, a time to heal

Londoner Arnold Bax, who loved to holiday in the West of Ireland, composed
Elegiac Trio
in 1916 about the failed Easter rising, the elegy being for the chocolate-box Ireland of his imagination as much as the dead. What was arguably more tragic than what happened was what didn't - Roger Casement was picked up by British forces shortly after landing on Banna Strand in Kerry, having been taken there by U-Boat. Casement was trying to get the message to Irish rebels to abort the operation, as the German promise of help - on the basis of "my enemy's enemy" - was, like the French promise of help during the
1798 rising
, composed of little more than words. P
erhaps the over-riding tragedy is that the relatively inclusive United Irishmen of 1798 were progressively sidelined by more sectarian organisations which spent as much energy on internal rifts as on anything else, but like the rest of the world I pray that Democratic Unionist Party leader Peter Robinson can manage to
keep his party on-side with the power-sharing arrangement
in the context of that arrangement having been set up by politicians who wanted Loyalists to give up more than they were perhaps ready to. Unfortunately not quite the whole piece is on this clip (I can't find it in one piece), but I hope you get the taste of the gentle Irish breeze.
7 -
A time to plant, a time to reap
I was initially going to put this one under "a time to laugh, a time to weep", as we've all been to weddings that start with joyous reunions surrounding the joyous union before Auntie Betty gets maudlin over a sherry too many, then chose this heading because one of the many things weddings indicate is the maturing of the human harvest, an allegory that deepens my enjoyment of each year's Harvest Festival at St Gallicus. Harnick's lyrics say it all in perfect harmony with Bock's music on
Sunrise, Sunset
from
Fiddler on the Roof
.
6 -
A time to build up, a time to break down
This is archetypal psychedelia recorded in 1967, the year in which the "
Death of Hippy
" was proclaimed by, er, hippies. Three years afterwards, it appeared on the soundtrack of an atrocious piece of trash called
Beyond the Valley of the Dolls
, which was about the section of the generation that thought it invented sexual liberation, but which was reaping the harvest sown by its parents who were fighting a war that some thought might end civilisation. A lot of good stuff happened in the 60s - you can't diss the decade that saw Gillian Anderson's conception - but a lot of people, often women who were being conditioned by fashionable feminists to become cannon-fodder for the exploitation rodeo, were broken; witness novelist Martin Amis' contention that "
the sexual revolution killed my sister Sally
". Click on the clip, and immerse yourself in the strangeness.
5 -
A time you may embrace, a time to refrain from embracing
Never somebody to let a song away with only one meaning, Paul McCartney combined the faith of his childhood with memories of his mother in
Let it Be
. The
middle verse
seems to be a meditation on a verse of a Prayer to Our Lady of Lourdes, which I've only ever seen in French, which enjoins the Virgin
priez pour ceux qui aiment et sont partis
- "pray for those who love and are parted". There are many ways in which one can experience the heartbreak of being parted, so I thought that in was appropriate to post this video by Ferry Aid, produced by Hit Factory team Stock, Aitken and Waterman and starring Macca, which was released in 1987 in the aftermath of the sinking of the
Herald of Free Enterprise
near Zeebruge in Belgium. Parental advisory: contains shoulderpads and Big Hair.
4 -
A time of war, a time of peace
This was sung by Edith Piaf, "the sparrow", about
les Grognards
, an elite unit - essentially a special forces regiment - who were sent to Russia in the ill-fated campaign defeated by Generals January and February.
In the song
, the soldiers' shades march through Paris, a city they never had a chance to see during their brief lives and whose citizens' freedoms were won by their sacrifices. Its a song about our duty of remembrance towards the glorious fallen, summed up by Herodotus with Simonides' epitaph for the slain Spartans in his
Histories
-
Go tell the Spartans, stranger passing by,
that here, obedient to their law, we lie.
- and recited at the start and end of every Royal British Legion meeting: "
at the going down of the sun, we will remember them
". Here it's performed by Martha Wainwright, who's just released an album of Piaf songs.
3 -
A time for every purpose under Heaven
It was a very good year
is a fitting humanistic summary of the Ecclesiastes passage. It was made famous by Frank Sinatra, but here's Ervin Drake's song covered by Ray Charles duetting with Willie Nelson.
2 -
Chanukah
(Or Hanukkah song, I'm not sure about the translitteration.) How can I write a post about times and seasons and not get seasonal for the last couple? Adam Sandler wrote this for kids who felt they were the only ones in their streets not to have a Christmas tree. The irony is that, here in East Anglia, a lot of people have plastic Chanukah candleabra in their windows thinking that they're Christmas decorations. Adam Sandler performs his original (and best, I think)
Chanukah Song
on Youtube, but in the only clips I can find he's so busy being Adam Sandler he doesn't give the song a chance. So here it is performed by Oy Capella, Syracuse University's mixed Jewish a capella outfit.
1 -
O Come O Come Emmanuael
Enya performs this classic Advent hymn, mixing English with Irish, that voices a longing for reconciliation for God that Christians believe came in the person of Jesus Christ. More Christmas music coming soon.
If you enjoyed this, click here for some more Top ten songs about...