Then the master called the servant in. 'You wicked servant,' he said, 'I cancelled all that debt of yours because you begged me to.

Shouldn't you have had mercy on your fellow-servant just as I had on you?'

In anger his master turned him over to the jailers to be tortured, until he should pay back all he owed.
In this excerpt from the Parable of the Unmerciful Servant, we can see how Jesus spoke to people in the idiom of their times. Some of the people in authority could be pretty cruel - it might be seen as a sine qua non of being in authority then. When Jesus spoke about a king who was prepared to send a servant to whom he'd previously been merciful to be tortured, his listeners would have recognised the scenario.

The subject of torture's in the news in the UK right now - two senior ministers in the Labour Government, Alan Johnson (Home Secretary) and David Miliband (Foreign Secretary) jointly published a piece in the Sunday Telegraph entitled We firmly oppose torture - but it is impossible to eradicate all risk. They wrote about how hard they work to ensure that British security services "do not collude in torture or mistreatment" of subjects who may have confessed to involvement in terror plots targeted at the West while being interrogated abroad.

Caroline Gammell and Jon Swain explain the context - growing pressure to mount a judicial review into the treatment of Ethiopian citizen Binyam Mohamed, who left his job as a caretaker in London to travel to Afghanistan in order to kick a drug habit. Trying to re-enter Great Britain the next year with falsified documents, he was picked up in Pakistan, and ended up at the US Guantànamo Bay facility on Cuba in 2004, having been released earlier this year. Crucially, he claims that he was shunted through various countries en route under the US redition scheme, and was tortured because of material passed to US authorities by the British.
Mohamed's not a good witness even as regards his own story; the most consistent part is that he went to Afghanistan to get off drugs, and if you believe that then I'll send you prices for my cousin's drying-out house in the centre of Dublin. But the liberal-socialist establishment is getting set up to hang the British security services out to dry - presumably because they can't get hold of the American ones - and their key offence is that they perceive something in being British that is worth defending. Even the Labour chair of the Parliamentary Intelligence and Security Committee, Kim Howells, has spoke of his worry "that these calls for judicial inquiries and so on are really treating the intelligence agencies as guilty until proven innocent and that's very, very dangerous for the security of this country".
But open up the subject of treating somebody as guilty until proven innocent and you open precisely the sort of can of worms when a Government has been doing this on purely ideological grounds for more than a decade.
Peter Connelly - Baby P - was found guilty of merely existing by his guardians and their lodger, and was tortured to death. Haringey Council, which had time and funds to translate its LGBT (Lesbian, Gay, Bisexual and Transgender) Service Directory into French and Somali, visited every so often but otherwise stood by and ignored classic signs of serious abuse that you can learn in a day-long child protection course - just as it had with Victoria Climbié.
Interestingly, Human Rights Watch, an international non-governmental organisation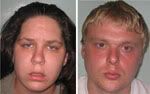 who say "By focusing international attention where human rights are violated, we give voice to the oppressed and hold oppressors accountable for their crimes", has focussed extensively on the harrowing stories of...Binyam Mohamed, but - despite not confining itself to examining governments - did not devote one word to either Peter Connelly or Victoria Climbié. It will be interesting to see if the NGO devotes any interest to the "human rights" of Peter's mother and her boyfriend, Tracey Connelly and Steven Barker, to be free of victimisation should they be released from prison. (Should they survive the attentions of fellow prisoners eager to carry out the duty the state has deserted.)
Human rights: obviously the property of terrorism suspects with dodgy alibis, but not of the children living in "alternative" households. (Or of the victims of Charles Manson's "harem" - the three women who were his comrades-in-slaughter are preparing a case for parole "on compassionate grounds".)

Sir John Scarlett, head of MI6, has said that his organisation is "as committed to the values and the human rights values of liberal democracy as anybody else", and I've got no cause to disbelieve him. But Telegraph columnist posits this case: Would we refuse to torture a terrorist who knew there was a nuclear bomb planted in London? I suppose there's times when it's just not enough to wear a bracelet that says "What would Jesus do?"
Related post:Pilate's question remains unanswered