The Tesco Express (small store) has only been in Cambridge's Mill Road for three days, yet it's starting to feel as if it's been there forever. It's bright, airy and affordable, and the staff are friendly.
So what was all the trouble about?
Although resistance to Tesco's planning application for the store first came onto my radar
last March
, the cause of the confusion manipulated by a disaffected minority was summed up recently by Cambridge Conservative parliamentary candidate Richard Normington, who recently attended a planning meeting in the city convened to determine whether
should the council enforce its own planning guidelines
.
Why bother with rules if you do not plan on enforcing them? However, the City Council has overruled its own guidelines to the point that the council is treated with ridicule by many of those putting in applications. Did you know that two in every five appeals against the city are successful?
Indeed, in the planning meeting last March, "
The recommendations from council officers and consultants in every case was that the Council should approve the proposed changes, usually with conditions. Arguments were backed up with reference to Central Government advice, history and the context of the Mill Road area in a 153-page agenda
." All but one were refused.
The anti-Te
sco cmpaign has been backed up by the city's Liberal Democrat MP David Howarth, who was a witness to an assault on a 66-year-old woman collecting signatures for a petition in favour of Tesco's. To his merit he offered himself to the police as a witness; but although I realise MPs must immerse themselves in all aspects of life in their constituencies, I wonder why he was concentrating on keeping Tesco away from Mill Road while on the same thoroughfare you can buy cannabis seeds, second-hand firearms and hard core pornography, while elsewhere in the city there are problems with drug-taking, prostitution, benefit-ghettoes and drink-fuelled violence at chucking-out time. Tesco's, it seems, should be the least of his problems, and the whole situation reflects the risks of mixing with single-issue activists to the exclusion of people who are on the other side of that issue.
There are those who say that Tesco's opening will herald shop closures and job losses. They will, of course, be proven right, because shops have been closing and jobs been lost for some time now - it's called a recession.
Something that may militate in Tesco's favour is the lack of an alcohol licence, in the context of accusations that the outlet - in reality a small shop among small shops - will become another source of cheap booze in an area plagued by problems related to the stuff. A dry Tesco's, I believe, will throw light onto the true source of inexpensive strong lagers and ciders whose brewers are well aware of their target market. They are sold in some of the very independent traders whom the
No Mill Road Tesco Campaign
affects to protect.
The campaign is, of course, in tatters, a fact recognised by judge
Lord Carlisle of Berriew
when he threw out Campaign member Richard Rippin's attempt to force a judicial review of the Council's decision-making process: "
This application is in reality an attempt to revive the No Mill Road Tesco Campaign under the guise of a Judicial Review claim. It is a misuse of Judicial Review
".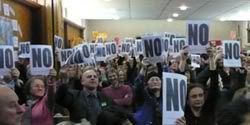 On Wednesday morning, Minora phoned me from outside Mill Road Tesco's to report that there were a few Campaign members outside the entrance, flanked by watchful police officers. While Campaign supporters had been quite vociferous when protesting in the Cambridge Folk Festival, these would only give a terse "I can't comment", presumably having been well-warned. It's a sign of the times that pragmatism has won out over ideologically-based censorship, and anybody who doesn't like Tesco's will be free to use any of the meny other shops in Mill Road. That's how free choice works.