Magus the cat has just seen snow for the first time this morning, and has decided he doesn't like it. He's very territorial about our - sorry, his - garden, and ran about for a bit to try to chase it out. Then he came in and mewled for me to pick him up; when I did so, he put his feet on my forearm to warm them up. Whoever said that dogs have owners while cats have staff knew what they were talking about. (
Thanks to Cambridge News Ltd for the pics above and below left.)
The grit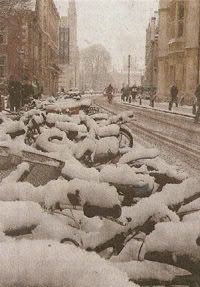 ters have done a good job in Cambridge, but we got sent home early from work yesterday because a lot of workers in Cambridge generally come from small, outlying villages, where gritting hasn't been so good, giving rise to fears about getting home should the snowfall become a blizzard. So I got back to the sound of delighted screams from the garden, and found the women in my life creating a family of snowmen and punctuating the crystal-cold air with the odd snowball.
I can remember a time when we were more robust in the face of the elements. A workmate of mine from Liverpool and I got into a reminiscence-fest, looking back at trudging to school through over a foot, occasionally two, of snow in his home town and in mine, Glasgow - in Great Britain
6,000 schools have been shut
over the last couple of days, with the knock-on effect that parents who couldn't arrange childcare were unable to turn up for work.
Sometimes these things get inflated in a spiral of gossip, though, and you end up with a situation when there was three feet of snow every winter: I only remember this happening once - in 1975, I think - and Prime Minister Harold Wilson rightly declared a national emergency. Now we have less than six inches of snow in London, and the capital's
ground to a virtual halt
; Professor Calculus estimates this will have cost the capital and the country up to a billion quid, and I reckon he's not far off.
On the other hand, I went to college in Rome for a couple of years in the 1980's. During my stay, the city saw its first major snowfall for seven years. As soon as possible, snow-chains were put round the buses' tyres, and life went on more or less as usual, just slightly more slowly. And I got a chance to take the snap on the right, a sight you don't see often in Rome - note the strategically-placed finger to the left. (I found to my disappointment I hadn't written on the back of the photo - can anybody help me identify the fountain?)
Cambridge is at the same latitude as Edmonton, Canada, and London, about 50 miles south, is still as far north as Kiev. So what do the authorities of a hot mediterranean city know about dealing with snow that we've forgotten?
PS the family of snowmen are still there, and the general concensus is that the fat one's me. Just not (quite) as good-looking.