There was an interesting article in the
Telegraph
yesterday, stating that Harriet Harman MP, whose
hagiography
lists her as "
Deputy Leader of the Labour Party...Chair of the Labour Party, Leader of the House of Commons, Secretary of State for Equalities, Minister for Women and Lord Privy Seal
", wishes to "
move bus routes from affluent suburbs to poorer areas
".
The piece caught my eye because a congestion-charge scheme is being pushed for Cambridge, whereby anybody driving into the city would have to pay a toll. In yesterday's
Cambridge News
, John Morgan reported that a Liberal Democrat councillor from South Cambridgeshire District Council (SCDC), covering the mainly rural area that surrounds Cambridge like a doughnut - effectively forming, with the rest of Cambridgeshire, much of its suburbs - has urged his fellow councillors to accept the measures because it would result in "
vastly improved public transport for the majority of [the area's] residents
".
Public transport is a major concern regarding congestion charging, on the part of the inhabitants of all the old fens as well as the people of Cambridge. Last May, the
Cambridge News
reported that 61% of people across Cambridgeshire
opposed the introduction of a charge
, although many would change their view if "attractive alternatives" for travelling into the city were presented. But if "the suburbs" are going to lose public transport in favour of areas the Labour government classifies as poorer...
I'm not on a country-versus-city kick here: I lived exclusively in cities and towns until I found the Draughty Old Fen. I merely agree with the
Telegraph
's political editor Patrick Hennessy, in the article linked to in the first paragraph of this post, that Ms Harman is "
'positioning' herself to the left of the Labour Party in an attempt to win support for a future leadership contest
" so that she can add the title of head chef to her menu of responsibilities.
Head for head, I'd say there's as much financial poverty in villages as there is in urban areas, but possibly less of the more damaging types of poverty that scar the soul. Villages are not as vulnerable to ideologues whose idea of social responsibility is herding poorer populations into vast ghettoes - as happened, for example, when Glasgow's Labour-dominated council transported people out of sl
ums adjacent to the city to shiny new slums in places with names like Drumchapel and Easterhouse.
And that, I think, is the nub of the thing. Limit public transport to the villages outlying a town, and you limit options for people without cars to move out of the town and arguably out of a demographic which is seen as Labour-friendly. A similar thing has already happened, as Andrew Marr notes in
A History of Modern Britain
.
Architects like Erno Goldfinger intended their "cities in the sky" to be built in the countryside so that workers could be free of the environments they laboured in, but corporatist minds saw an opportunity to concentrate as many votes as possible in a relatively small urban area. So the tower-blocks ended up as prisons in the sky - especially when the lifts were broken, as my Mum found out when we lived in one - and Goldfinger was immortalised as a camp übervillain in a mysogynistic spy-fantasy.
It's a shame that Lib-Dem Councillor Stephen Harangozo has chosen to swallow the Government line on congestion charging, down to the suggestion that by adopting the scheme Cambridge can bid for £500m ($725m) of government money. Not only does this money origina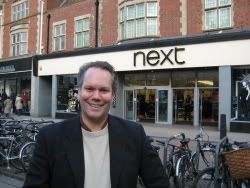 te from taxpayers in the first place, but, as Cambridge Prospective Parliamentary Candidate
Richard Normington
reveals in his
blog
, at least 10% of this will have to be raised by local taxpayers, who could find themselves with even higher taxes to shore up the scheme should it stay in the red. What's also sad is that parish (village) councillors of most political hues co-operated to force Cambridge City Council to hold workshops for residents of the "necklace" of villages around Cambridge who would have to pay to go to work or to visit the city, and outside whose houses rat-runs of cars and lorries would race to avoid crossing the charge boundary. Richard has also pointed out that, since one of the members of the committee exploring traffic-management issues has proposed introducing a congestion charge elsewhere in England, the process runs the risk of being a
stitch-up
.
There is, of course, hope. Conservative councillors Tom Bygott and Peter Topping of SCDC have tabled a motion showing how bad the congestion charge will be for rural residents. With Richard Norminton showing how bad the charge would be for people living in the city of Cambridge, one can see how ironically successful the Government is at uniting groups it is trying its best to put at one another's throats. You could say that it's a situation Harriet Harman would find taxing.