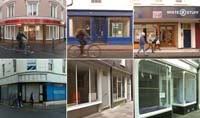 The economic downturn is making itself felt in the Draughty Old Fen, with people who have never been unemployed in their lives finding themselves without a job, some of these even looking abroad for jobs. Speaking as somebody who
got on his bike
and got a job in a different country, I have sympathy for them - but in my case it turned out to be the best move we ever made.
The
Cambridge News
carried an article today saying that "
dozens of shops
" in Cambridge are standing empty, at a time when Cambridge University colleges, who own commercial properties in the city, are considering raising rents.
It's a heartrending situation. The more shops go out of business, the more shops will follow them, as shoppers migrate to streets and even towns where there are less voids, especially when nights are dark.
On the other hand, I can see the Uni's need to establish a "fighting fund" in the face of
government targets
to place 50% of school-leavers in higher education. In order to facilitate this, central government is placing unrelenting pressure on universities to lower their academic standars, so that they are now offering what were lambasted by Labour's own Margaret (now Lady) Hodge as "
Mickey Mouse degrees
", such as studies in cosmetics or
golf course management
. Particulary in the ideologues' targets are the universities of Cambridge and Oxford, which are under fire for not forcing students onto dumbed-down courses which they are ill-equipped to finish and,
dropping out
, end up with their self-confidence around their ankles.
The chocolate fireguard degrees are a part of a plan which will see students in England forced to stay on in school or other education
until the age of 18
. The government will be able to point to some successes from this, but it occurs to me that these will be people who would have stayed on in education anyway. I suppose, however, that in line with plans for more employees to be given work by the state to ride out the recession, there will be an explosion in posts for truancy officers.
Instead of flooding the fast-food industry with golf graduates, what's wrong with
lowering
the school leaving age so that, say, a kid who likes golf can try to get a job as a caddy, graduate to the clubhouse, so that by the time his more academically able peers are graduating from college or university, he knows the golf trade like the back of his hand and is ready to start off in junior management, including further education on a sandwich basis?
I've said it before and I'll say it again: if schools were genuinely allowed to prepare pupils for the world of work, either directly or through higher education, universities would not be the only beneficiaries: we'd have shop-assistants who could count, administrators who could write letters, and everybody could come home and enjoy a good book.

None of this helps shopkeepers in Cambridge who find they have to shut up shop forever. But I think pointing to the colleges as the baddies is like blaming pubs for the downturn in their business because they've banned smoking. Let's take the blindfold off before we pin the tail on the donkey.