Sometimes, certain professions are made scapegoats for failings which emanate from much larger sectors of society. For instance, in the late 1970's I remember people being booed on game shows if the answer to "what do you do?" was tax inspector, although they were not responsible for setting taxes. Rather, this was the job of the democratically elected government, which was democratically voted out at the first opportunity. Again, the Metropolitan Police were seen as Margaret Thatcher's private union-busters, when what they were doing was resisting Arthur Scargill's strike (illegal according to the constitution of the National Union of Miners) which - contrary to the intentions of many individual miners - was intended by an inner cabal to unseat the Government that was democratically brought in.
I spok

e to a couple of Police Community Support Officers yesterday. They were very knowledgeable about the area and very professional. They also demonstrated an understanding of the average fenny's frustrations about the leniency of the courts and lack of information on arrests and convictions, some of which frustrations they shared. They also played a role in looking in on people who might be vulnerable for various reasons, not always connected with legal issues. Significantly, their
powers
include handing out fixed-penalty notices to eejits who buy alcohol for distribution to young people who can't handle it, and go causing havoc that can't always be prioritised for the attention of Police Constables.
In her podcast "Home grown officers", Cambridgeshire Constabulary Chief Constable Julie
Spence talks about how most of the current crop of PCSO trainees are from Cambridgeshire. They are needed because 19 former PCSO's from the county have qualified as PC's, bringing their local knowledge and experience. Ms Spence, who will be a judge at this year's
Daily Mirror
"
Pride of Britain
" awards, says that "PCSO's have proved their worth in Cambridgeshire". (Click the picture at the bottom of this blog for further details of her support for PCSO's.)
The problem with the reputation of PCSO's goes back to a tragic drowning case when ten-year-old Jordon Lyon drowned trying to save his sister, who had become trapped in underwater vegetation in a lake, allegedly while two PCSO's looked on. Suddenly, national frustrations about PCSO's - which were in fact frustrations about governmental
broken promises
regarding numbers of PC's - found a focus and headlines screamed about "Blunkett's bouncers" and "plastic policemen", while a
clarification
from the PCSOs' Assistant Chief Constable that rebutted key aspects of the story was largely ignored.
People who say that we need more PC's instead of PCSO's seem not to be bothered by the question of why they see a need for more PC's. For example: judges from the liberal intelligentsia are deluded that criminals will be reformed if treated as if they too were members of the liberal intelligentsia, instead of releiving society from them for a spell; virtually unimpeded
immigration
, intended to defer the pensions crisis to the next generation, is exacerbating a crime-wave without precedent; and care-needs abandoned by neighbours are left unassessed by social work departments which prefer to target traditional families who have have hit a rough patch.
We live in a society where it can't be denied that the fear of crime magnifies the effect of actual crime. But to situate the debate within this hall of mirrors obfuscates issues; for example, on knife crime, Labour MP
Kali Mountford
stated to the
House of Commons
this January:
Accepting that knife crime is up, however, does not mean accepting that more young people are carrying knives and using them. It does not mean that crime in general is on the increase. We must be able to accept that that one crime is going in the wrong direction, while other things are getting better. We must be mature enough to say, "But burglary is down, and car theft is down. Those things are going in the right direction." Those are the sets of figures, and we must be mature enough to accept them in the round. We should not say, "You are massaging the figures, because you are not accepting this aspect of violent crime." We should not be having an artificial debate about which is the true figure, when the truth is that one aspect of crime is going in the wrong direction and another is going in the right direction.
In other words, violent crime is up, but a reduction in some non-violent crimes makes that acceptable. This is the result of that political species of game theory whereby, as the
Telegraph
reports, different types of crime are given equal weighting and the added score, and not the type of crimes solved, indicate a police-force's performance in the eyes of government.
None of this is the fault of PCSO's, who slog away in very challenging circumstanc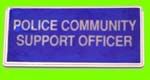 es for not enough pay. It's a truism to say that we live in a
broken society
, but PCSO's aren't part of the problem; rather, they're part of the solution. They are shining stars in the firmament of law enforcement, and I predict that they will shine ever brighter as time goes by.