It's that time of year again, when Totalpolitics, in conjunction with Iain Dale's Diary,
LabourList
and
LibDemVoice
, are opening polls for the most popular British political blogs, which will be published in the Guids to Political Blogging 2009-2010.
You don't need to be British to vote, you just need to vote for British political blogs...like this one!
One of the very sensible rules is that you can't publish "templates" for people to cut and paste and send in. So please accept what I offer as what it is - an explanation of why I selected the blogs I voted for, with examples of why they are my favourite blogs.
I did, of course, vote for myself - so here's the other nine!
1 -
Iain Dale's Diary
.
Iain is a consummate political commentator and his blog has led to him obtaining a lobby pass for the House of C
ommons. He is a master of the subtle art of refraining from going on the attack so that the failings of one's opponents shine through all the more clearly by being in their own words. My favourite post of his is an account of a
robust interview with hard-left MP George Galloway
on the latter's radio show, during which Galloway turned Dale's microphone off when he didn't like what his interlocutor was saying; the post contains a link to the interview - it's well worth hearing. Another worthwhile read is Dale's
defence of Trevor Philips, head of the Equalities & Human Rights Commission
, who has come under fierce attack from rent-a-bigot Yasmin Alibhai Brown because he has some common-sense ideas - which in her books makes him "a closet Tory".
2 -
John Smeaton - SPUC Director
.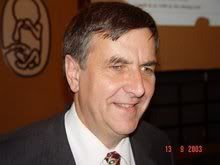 This blog does what it says on the tin. John Smeaton is the Director of SPUC, the Society for the Protection of Unborn Children. We're already exploring the difficulties that Iain Dale et al will face in judging this poll, in dealing with blogs by non-party-political groups such as SPUC, which cannot but comment on politics.
A recent blog displays the tightrope Smeaton must walk
, quoting Tory leader David Cameron's insistence that the Government is responsible for the acts of its quangos (in the context of deciding on whether abortion services should be advertised in Great Britain), while dealing with senior Conservatives' support for reducing the number of late abortion by widening access to early abortions. It's a tricky road to navigate, but John does it with intelligence and insight.
Part of the remit of SPUC is to promote the right to life of people at the other end from birth, and a high point was the organisation's
recent campaign against an amendment to a bill in the Hose of Lords
to remove the threat of prosecution against those helping somebody to assist suicide. Includes much news from outside the UK and from both the Roman Catholic Church and diverse religious and political sources.
3 -
Cranmer
.
An Anglican theologian who blogs
in persona archiepiscopi
, Cranmer often hits the nail so squarely on the head that it hurts, but he's never as good for a chortle than when he's in high dudgeon. I was disappointed to see him condemned for "
anti-catholic rants
" when one person, for example, he praises unstintingly is
Pope Benedict XVI
, and he is by no means easy on his own church. His targets for boquets and brickbats reflect a voracious intellect. One of my favourite posts was when he related his struggle to be recognised as Archbishop Cranmer by Facebook but was knocked back because the site didn't allow religious titles: so he had to re-register as
Ayatollah Cranmer
.
On a more serious note, the virtual prelate's exposé of a
Glasgow City Council-sponsored "art" installation encouraging people to desecrate the Bible
was a valuable insight into the sinister agendas of the corporatist mentality - and in a city that can erupt into religious strife at the drop of a hat.
4 -
Cambridge Conservatives Blog
.
This is written predominantly by Richard Normington, Prospective Parliamentary Candidate for the Conservative Party for Cambridge, a city which has its own inimitable character, not least because of its 800-year-old university, but whose problems and political conflicts can mirror those of any smaller community living in the shadow of a metropolis. His comments are short, laser-sharp and sometimes shocking - for example his revelation earlier this year that no less than
£50 million of a Government grant for a proposed congestion charge would have to be stumped up by the city's taxpayers
. He's also commented on
thefts of theoretically-secure sensitive information
and
the dangers of proportional representation
, and recently returned from
helping to represent British business interests in the Far East
.
5 -
Addiction Today
. AS a former drugs-worker, I'm fascinated by this online presence of the magazine of the same name. Their latest post concentrates on the report on a Parliamentary group looking at the
lack of treatment options for people who have become addicted to prescribed benzodiazepines
(tranquillisers like Diazepam, etc). The group is chaired by Jim Dobbin, a Labour MP who is, among other things, a passionate pro-lifer. It's also not afraid to put the NTA (National Treatment Agency for Drug Misuse) on the spot and, in
a classic post by Dierdre Boyd
, the quango was asked to explain why over 50,000 people in receipt of Methadone were not required to attend any sort of therapeutic intervention, why residential rehabs are being closed, and why the organisation denied the existence of one of its own assessment tools. Here we have another example of a blog which isn't party-political, but is undoubtedly, among other things, a political blog. Should the Conservatives win the next election, I think Addiction Today and John Smeaton will be asking us some very hard questions.
6 -
There's Nothing British about the BNP
. This site is invaluable in its relentless insistence that the National Socialist organisation (British National Party) face up to questions from all sectors of the communities that its two new representatives in the European Parliament, Nick Griffin and Andrew Brons, represent. Check out the
ten questions
it sent to the two on the day they took up their seats.
7 -
Conservative History Journal
. Iain Dale's one of the contributors to the blog of the Conservative History Group and the aforementioned journal. Go here for fascinating insights into and analysis of historical events and also reviews of historical books. One very poignant post was about the
recent death of Harry Patch, Britain's last veteran of the WWI trenches
. Also intriguing was an article on the
Battle of the Boyne
and how the religious and national politics surrounding it were much more confused than communities who inform their identity therefrom often pretend.
8 -
The Blue Blog
.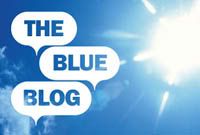 The offical blog of the Conservative Party often carries contributions from senior Party figures as well as contributions from rank-and-file members. A fascinating entry was by David Burrowes MP, who represents
Gary McKinnon
, who in his impending extradition to the US for hacking into federal computers is being failed by both Labour's political laziness in leaving t's uncrossed and i's undotted when the extradition treaty was drawn up, and by the Foreign Secretary's unwillignness to make his voice heard.
9 -
Burke's Corner
. The author describes himself as "a communitarian conservative and post-liberal Anglican", and presents closely-reasoned essays on modern history and current affairs, from points of view cogent with those that informed Edmund Burke, the Irish-born founder of modern Conservatism. Often controversial and always challenging, his latest article looks at the implications of Richard Nixon's loss to JF Kennedy by 0.1% of the vote in the 1960 presidential election for the modern Republican Party.
Anyway, these are my choices. There are, of course, many blogs from outside the UK that I follow - for example, I think the
Jewish Internet Defence Fund
would sympathise with Cranmer's travails on Facebook, and for the tell-it-like-it-is tales from the life of a US home-educating Mum, you can't go wrong with
Don't Poke the Baby
. I hope there's a chance to vote for them in other polls.
So go now and make your own choices - and please don't forget old Frugal Dougal!