Street Voices is a band formed by people living in hostels for the homeless in Cambridge or who are otherwise members of the street community. I'm not very good at catching them in performance.
On 20th June, I went to the Leper Chapel in Cambridge to hear the group rehearse for a memorial service for seventeen members of the street community who had died in the past year. They were practicing the first verse of a traditional song arranged by Bob Dylan,
He was a friend of mine
: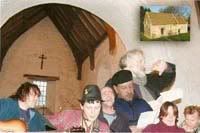 He was a friend of mine
He was a friend of mine
Every time I think about him now
Lord I just can't keep from cryin'
'Cause he was a friend of mine
The verse was sung six times, with band member Carolyn Perkins (Caz) intoning the name of one of the deceased in between each personal-pronoun-adjusted line.
For seventeen members of the street community to die in a year is a terrifying figure in the context of Cambridge City Council's
most recent statistics
on the number of homeless people (including those in hostels). There were roughly 200 homeless people in Cambridge in the quarter ending 31 December 2007. If the attrition is solely inflicted upon this group, we are looking at a mortality rate of 8.5%. However, provision of a roof, as essential as this is to moving onwards and upwards, does not necessarily remove somebody from the street scene by itself, for the same reason that somebody who retires from a factory will find themselves attending the attached social-club for a while afterwards.
The statistics show that the English Churches Housing Group's
tenancy sustainment team
were supporting 21 tenants who had moved into permanent housing for six months or less, 73 people who had been housed for 6-12 months, 61 for 12-18 months and 90 for 18-24 months. The figures for the tenancy support team attached to
Jimmy's Nightshelter
are one, four, four and four respectively. So, taking all of these into consideration, the most precise statement we can make is that the mortality rate for the Cambridge street community lies somewhere between 3.7-8.5%. (I emphasize that these are the figures from the time of the study; Jimmy's, for instance, currently supports 29 people in their tenancies, including 14 in the 2-5 year range.)
Looking just at the smaller figure and extrapolating it to other groups at national level, 3.7% represents 55,500 NHS employees, 18, 690 civil servants, 27 members of the House of Lords or 24 MP's. Or 15,891 members of the Armed Forces, whose former members can be represented among homeless people much more than those of the other categories. I cannot think of any estate in life, other than the street community, where even the lower mortality rate of 3.7% would be tolerated without a massive and government-toppling outcry.
I was gutted that I wasn't able to stay for the memorial service, but Maxima had enmeshed me in the sort of complex babysitting situation that only women can understand.
The next time I missed Street Voices was when they opened an exhibition by
Missing Links
called
Corrugation Street - Thinking inside the Box
, which featured several cardboard boxes with pictures and writing by homeless and recently homeless people on the inside describing their experiences of homelessness. There was one touching testimony of a man who had been given permission by a disabled lady to live in her shed, and in return he walked her dog, something she was unable to do.
It was facilitated by puppeteer/community artist
Linton Bocock
. Described as "a project straight from the heart of Cambridge's homeless community", each installation was composed of "a cardboard box, some materials and some intense experiences [to give] a glimpse of a side to medern life that most people don't see".
Minima and I were late because she'd gone over on her ankle, so we had to take two buses to get there instead of cycling. We were in time to catch artist and
Willow Walker
editor Kirsten Lavers and Caz, who were showcasing some of the goods sold by
Cambridge Link-Up
, a company managed and ran by homeless and recently-homeless people. Stock had gone fast, but there were still some items left: handbags knitted from plastic bags (Minora had two of these, both featuring the colour pink), mobile phone pouches crocheted from plastic yarn derived from aforementioned bags, hats made from videotape and presented in the original boxes (mine was in
The Rain Man
), and picnic bags which, when un-velcroed, folded out into ground-mats.
I started to panic a little when Kirsten started to explain the technique for ironing the plastic bags together to Minora, as the house is littered with the detritus of her hammerbeads experiments. I was mercifully distracted by Caz explaining that Cambridge Link-Up, which runs a monthly
market stall
and will also have a stall at the
Cambridge Folk Festival
, has received support from
John Lewis
and a visit from senior civil servant Sir Gus O' Donnell, as well as Street Voices receiving
lottery
funding to produce a CD which should be out around November. Personally I'm looking forward to it, having heard the samples posted on the Cambridge Link-Up
audio gallery
- where you can hear the concert performed at the Leper Chapel.
It's really good to see Cambridge Link-Up providing a service for the homeless community in Cambridge from within that community - in the words of one motto, it gives a hand up, not a hand-out. It is a resource that unfortunately may become even more urgently needed in the light of current financial trends - mortgage arrears were given as a factor in respondents' homelessness in 0% of cases in the quarters ending June and September 2007 in the study linked to above - and in 6% of replies in that ending December 2007, the quarter on which the study concentrated.
Some music started up - but Street voices had left; this was Rough Beast, who'd come to lend support. "Now that's real blues," I commented as they jammed but Minora, a
High School Musical
devotee, looked at me and blinked.
Street Voices will be performing a summer jam from 11am-1pm on 22 August in the Community Room at
82 Akeman Street
. I'm going to try not to miss it. Honest.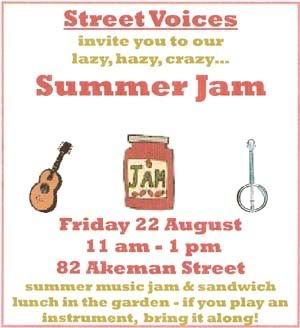 Related post:
Homeless not hopeless