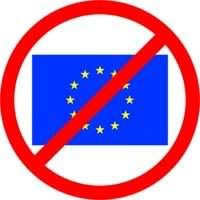 One of the first people I met in Cambridgeshire was an Irishman called Pat. He'd come over during the Second World War and got a job at the newly-opened Marshall's Aerodrome in Cambridge. As an aviation engineer his job, after test-pilots had put Spitfires through their paces by flying them as closely to the limits as possible, was to take the engines apart to find what widgets had come out of alignment and fix them.
Pat was a fiercely independant man, even in his last years, and I think he'd be proud of his countrymen for voting "no" in the recent
referendum
on the EU's Lisbon Treaty.
The
Lisbon Treaty
is the latest version of the EU
Constitution
, which was widely criticised for legislating for an EU national (supra-national?) anthem based on Schiller's
Ode to Joy
as arranged by Beethoven in the final movement of his Ninth Symphony. To add insult to injury, although Article I-41(1) stated that "[only] those Member States which together establish multinational forces may also make them available to the common security and defence policy", in the soporific depths of page 371 (372 in the .pdf document linked to above), refers to Member States' defence capabilities moving forward "in accordance with the principle of a single set of forces".
Towards the end of last year, the Constitution having been thrown out and a "Reform Treaty" having been written,
German
politicians moved to have the flag, anthem, motto and single currency enshrined in the Treaty. I believe that these politicians, and those in other countries who feel compelled to obviate their national identity, will keep trying.
Gordon Brown, who was praised by French President Nicolas Sarkozy for "forcing the treaty bill through Parliament without a referendum", was said recently to be involved in a "
plot
" to force the Irish into holding a second referendum (even as
Lord Justice Richards
invites the British Government to delay ratifying the Treaty as a petition for a referendum is in front of him in the High Court). Italy, Spain, Croatia and Poland are
concerned
, with Spanish foreign minister Miguel Angel Moratinos saying, in a manner which seems both patronising and ominous, "
of course we respect the wishes of the Irish people, but I am convinced that the European Union will find a solution as it has on other occasions in the past
".
EU President José Mauel Barroso
states
that the Irish vote against the Lisbon Treaty changes nothing, and its ratification will proceed unhindered. I am reminded of Robert Mugabe's
statement
that he will not be "overthrown by a cross on a piece of paper". Now it becomes clear why the West has so far been reluctant to act in Zimbabwe - Mugabe is not defying the principles of democracy as they are practiced in Europe; he is copying them.
The
European Coal and Steel Community
was a visionary concept, founded by visionaries, with the remit of stopping a fourth franco-teutonic conflagration in the chain of infernos stretching from the Franco-Prussian War to World War II. It has been vandalised by mission-drift of a degree that would make Sophocles weep.
I hope that t
he Irish will remain staunch in their opposition to the latest version of the EU Treaty and any further incarnations of it, and that their example will serve as a reminder to the rest of the peoples of Europe that they still have a national voice, regardless of what Brussels functionaries would have them think. In saving Ireland, they may have saved us all.
Meanwhile I'm sure that Pat, on his cloud, is still enjoying a celebratory pint of the black stuff.